Revving Up, Jeb Bush Rolls Through Washington
EXCLUSIVE: What Jeb Bush is telling lobbyists and potential donors as he tries to build momentum for a presidential run.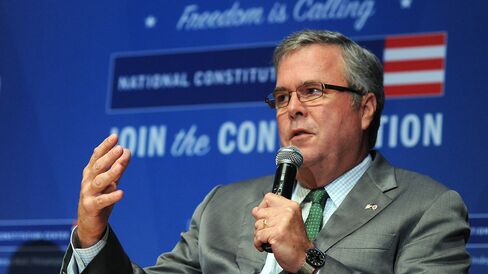 Former Florida Governor Jeb Bush tore through Washington this week, impressing the lobbyists and potential donors he met for the first time and leaning on old family friends to help raise huge sums of money as he considers a run for the White House.
According to multiple Republicans in attendance at events Tuesday and Wednesday, Bush simultaneously bemoaned the cost of modern presidential campaigns—more than $2.35 billion in 2012—and pledged to not be left behind in the fundraising race. Bloomberg Politics reported this month that Bush's allies are citing a first-quarter fundraising goal of $100 million as they approach donors around the country.
Several Republicans who attended the invitation-only Beltway meetings and fundraiser requested anonymity before they would discuss the events, saying they were not authorized to speak about them publicly. In multiple conversations, they described a politician who appeared primed for another campaign, braced for an internal party battle, and prepared to face questions about his support for immigration reform and Common Core educational standards.
Bush told potential supporters that he had no interest in tactics that would help him win conservative votes in the primaries but make it harder to win the general election, according to the attendees. An ugly campaign victory, he told the groups, would do nothing to build the consensus needed to solve the nation's problems.
Bush met with about 40 people on Tuesday at the home of Fred Malek, an influential Republican with ties to President George H.W. Bush's administration. Bush was joined by his sister Dorothy and brother Marvin.
In that meeting, according to three attendees, Bush described his belief in personal diplomacy abroad, adding that he has traveled to China multiple times over past four years. He also said that if he runs for president he looked forward to a vigorous debate with those in his party who would scale back U.S. involvement abroad, what one Republican in attendance described as a thinly veiled shot at Senator Rand Paul, the Kentucky Republican who is also weighing a presidential campaign.
As a way of introducing himself, Bush described his life with Columba, his wife of 40 years. The former governor described how they met as teenagers and he was immediately smitten, but needed several years to persuade her to marry him. Columba Bush's reluctance has often been cited as a reason why Jeb Bush never has run for the White House.
Bush told the group that he learned the value of listening during his failed 1994 bid for governor, and that if he officially begins a campaign, that would be a top priority. On energy, he criticized the failure to approve the Keystone XL pipeline as bad public policy and insulting to Canada.
Attendees at Malek's event, which totaled about 40 people, also included Jack Oliver, a senior advisor to Barclays Capital and a top fundraiser for George W. Bush's two presidential campaigns, and former U.S. Attorney General Bill Barr.
Bush spokeswoman Kristy Campbell declined to comment on the series of closed-door events.
On Wednesday, Bush held a fundraiser at the Washington offices of WilmerHale, which describes itself as one of the largest law firms in the nation's capital. Attendees included Nancy Dorn, General Electric's vice president of corporate government relations; Sara Taylor Fagen, who was a senior aide and White House political director for then-President George W. Bush; Juleanna Glover, who worked in White House for George W. Bush and advised John McCain's 2008 presidential campaign.
At the fundraiser, Bush criticized Obama as having an Alice-in-Wonderland approach to economics, according to one person in attendance. He was critical of Obama's push for a plan for free community college, while saying the president also wanted to increase taxes on Americans saving money to pay for tuition. It was ridiculous to think Obama's plan wouldn't have negative implications, Bush told his audience.
Bush also criticized a White House video on Tuesday that promoted the president's State of the Union speech as a "BFD," saying that kind of language doesn't bespeak a seriousness that the U.S. should be signaling. Bush added that he would have grown-ups on his foreign policy team.
Turning to two potential primary rivals, Bush praised Senator Marco Rubio for being a thoughtful leader and 2012 Republican presidential nominee Mitt Romney, adding that he didn't believe he would have to tear down his rivals in order to win a primary.
Before the event at Malek's home on Tuesday, Bush met with a total of about 80 donors and bundlers in two meetings organized by National Association of Wholesaler-Distributors President Dirk Van Dongen. According to three people in the crowd at the group's Washington headquarters, Bush's team said they planned to hold 60 fundraisers around the U.S. by March 31, a number first reported by the Washington Examiner. The frenetic pace of nearly one per day will be focused mostly in the biggest states where the most political money is available: Florida, New York, Texas, and California.
The attendees said that people who were interested in helping the former governor were asked to raise various amounts of money—$50,000, $100,000, $250,000 or $500,000—when Bush returns to the nation's capital for a February fundraiser. One Republican who hadn't previously met Bush came way from the event impressed by the former governor, describing him as engaging and candid.
Bush took questions at each event. At the NAW headquarters event, which Oliver moderated, attendees said Bush was asked about a pair of controversial issues that he would need to confront in a Republican primary: His support for easing immigration laws, and his backing for Common Core. They described Bush as giving a smart, thoughtful answer on his immigration position, saying the Republican Party needed to handle the issue with more sensitivity, or risk loosing credibility on other topics with minority voters. On Common Core, the former governor was more succinct, saying simply that he supported higher educational standards.
Attendees at the wholesalers' event included Ed Ingle, Microsoft's managing director of government affairs; Dan Meyer, a partner at Washington-based Duberstein Group who was an assistant to former President George W. Bush; Susan Molinari, Google's vice president of public policy; and her husband, former Representative Bill Paxon of New York. Bloomberg Politics also confirmed that attendees included several former governors now working in Washington, such John Engler of Michigan and Frank Keating of Oklahoma, and a lengthy list of attendees first reported by Politico.
Before it's here, it's on the Bloomberg Terminal.
LEARN MORE