Rubio Backs Focus on Border Security Over Reversing Obama Orders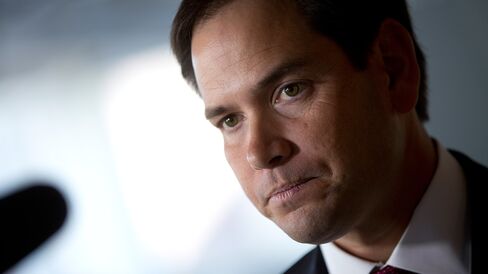 Senator Marco Rubio said Republicans in Congress should focus more on strengthening U.S. border security and other immigration measures than on trying to overturn President Barack Obama's orders easing deportations.
"I would prefer we would spend the majority of our time actually acting on our immigration reform platform," Rubio, a Florida Republican and potential 2016 presidential candidate, said at a Christian Science Monitor breakfast Wednesday in Washington.
Even so, Rubio said, "I think we should try to prevent this new executive order from kicking in."
On Jan. 14 the House passed a bill that went beyond Republicans' pledge to reverse the president's November orders shielding about 5 million undocumented immigrants in the U.S. from deportation.
The House measure also seeks to block a 2012 Obama directive that protected immigrants brought to the U.S. illegally as children. In addition, the measure sought to reverse a series of memos starting in 2011 that said terrorists and criminals should be deported first.
House Speaker John Boehner and other leaders agreed to include those measures, which were sought by Tea Party-aligned lawmakers. Democrats say the move risks alienating Hispanic voters because it targets children who were brought illegally to the U.S. through no fault of their own.
Rubio said he supports rolling back the president's November orders, though he declined to support reversing the 2012 order on immigrants brought to the U.S. as children.
Rubio, 43, is the son of Cuban exiles.
Difficult Line
His position reflects the difficult line Republicans must walk on the immigration issue as the 2016 congressional and presidential elections approach. It also is an acknowledgment of his party's legislative limits. Though Republicans now control both chambers of Congress, Obama said he would veto any legislation reversing his orders.
If Senate Majority Leader Mitch McConnell took up the House bill it would put force many Republicans like Rubio to cast a difficult vote.
The 2012 order regarding child immigrants will expire at the end of Obama's presidency, said Rubio. "In the interim, we should not be signing up new people" for that program, he said.
Rubio said he favors a piecemeal approach to changing immigration laws. A comprehensive immigration plan won't be passed by Congress because many lawmakers don't believe the enforcement provisions would be carried out, he said.
Path Forward
"The only path forward that has any chance of success is to bring illegal immigration under control" first, said Rubio. Then Congress would act to "modernize the illegal immigration system."
Rubio had supported a comprehensive measure passed by the Senate in 2013 that would create a path to citizenship for many of the nation's estimated 11 million undocumented immigrants. The Republican-led House refused to take up the bill.
Rubio also said former Florida Governor Jeb Bush would be "a very credible candidate" for the Republican presidential nomination in 2016 and that he has an "extraordinary network of donors."
Rubio said his own decision on whether to seek the presidency will depend on "where is the best place for me to serve my country."
On revamping U.S. immigration laws, Rubio said he disagreed that failing to pass a comprehensive immigration plan would hurt Republicans with Hispanic voters.
"I have never viewed immigration as a way to win elections," he said. "It's important for national security to have an immigration system that works."
"I've always seen the potential pitfalls," Rubio added.
Before it's here, it's on the Bloomberg Terminal.
LEARN MORE