Joni Ernst to Give State of the Union Response
The Republicans call on a freshly elected senator to answer the president.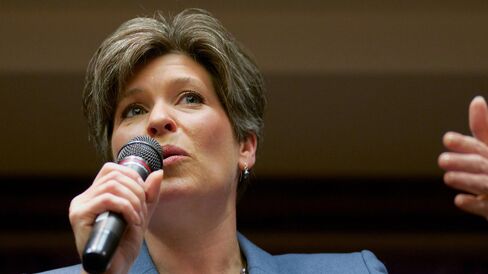 HERSHEY, Pa.—The Republican congressional leadership tried to keep the secret for a few more minutes. At the first joint GOP retreat in years, as reporters buzzed about who might give the response to next week's State of the Union address, staffers asked reporters to leave the Hershey Lodge lobby and gather for a John Boehner/Mitch McConnell press conference. They asked one station to move a camera so the leaders could emerge from a back room. Shortly after 2:30, they emerged, with newly elected Senator Joni Ernst of Iowa.
"It is a long way from Red Oak, Iowa to Washington, D.C.!" said Ernst. "Growing up on a southwest Iowa farm years and years ago, I never dreamed I would have this opportunity."
Ernst, who defeated a gaffe-plagued Democrat and led a Republican rout in Iowa, joins the club of freshly inaugurated politicians asked to give the State of the Union response speech. In 2006, 2007, and 2010, the out-of-power parties asked the men who'd just won statewide elections in Virginia to make the case against the president. She's also the second woman in a row to offer the response: Washington Representative Cathy McMorris Rodgers took the turn last year.
But Ernst is not a greenhorn: Her political career started with an election to the Montgomery County auditor's office in 2004, and took off when she won a 2011 special election for a deep red Iowa Senate district. Her 2014 Senate campaign was defined by a folksiness that Democrats could do nothing to contradict.
That, based on her quick introduction, was what she would expect to bring to next week's nationally televised speech. She gave no other preview in Hershey; at the end of the press conference, when NBC's Luke Russert started a question to Ernst about the speech, Boehner uttered a quick "No!" Ernst chuckled until the whole team had left the room.
Before it's here, it's on the Bloomberg Terminal.
LEARN MORE