Murthy's Confirmation Battle Between Public Health Experts and the Gun Lobby
Public health officials want to be free to address gun violence threats with their patients.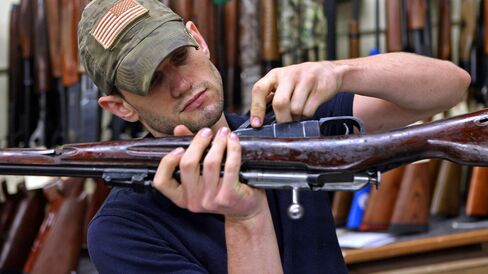 While Dr. Vivek Murthy's long-delayed confirmation as Surgeon General has more to do with Senator Ted Cruz and Democrats' poor midterm showing than anything else, some in the public health community are glad that a doctor wasn't punished for supporting a commonly held belief about guns.
Harold Pollack, the Helen Ross Professor of Social Service Administration at the University of Chicago (who worked with Murthy at Doctors for America) argued that his confirmation proved that addressing the dangers of guns is not "the third rail of public health policy" that many portray it to be.
Still, gun groups have a history of blocking efforts to tie gun violence to health—conservatives have blocked the Centers from Disease Control from researching gun violence for decades, MSNBC noted. If noting the link between widespread gun ownership and suicide rates meant not becoming the nation's top doctor, it's not hard to imagine future nominees "thinking 'should I say something about firearm safety or should I say something about childhood obesity?'" Pollack said.
Pro-gun groups are "trying to lay down a marker, and I think it's probably good political strategy for them," Pollack added. "But that makes it even more important to demonstrate that it's not a successful political strategy."
The perception that medical professionals are being pressured against linking gun violence is health is based in part on legislation at the state level. In Missouri, for example, doctors can't be required by law to ask a patient about firearm ownership, and can't document firearm ownership. In Florida, doctors can be fined or even lose their licenses if they ask about gun ownership.
"From my point of view it's part of an appropriate medical exam, when you're helping someone who a mental health issue, to say 'You know what? You have guns in your house. Maybe this is a good time for you to find some place to store them because you've got an issue with major depression,'" Pollack said.
According to the Harvard School of Public Health 85 percent of gun-related suicides are successful, compared to only 3 percent of drug related suicides. States with more gun ownership have higher rates of gun-related suicide. "It's not a question of Second Amendment anything," Pollack said. "It's an issue of how do we talk to patients about threats to their health."
But as it turns out, Murthy likely won't focus on the Second Amendment or the gun violence. As the Wall Street Journal noted, he has said his focus will be on obesity prevention. The president of the American Heart Association told The Hill it's "very gratifying to know that the new U.S. Surgeon General will share out vision and commitment to prevention."
Jeff Levi, the head of the Trust for America's Health advocacy group, meanwhile, told the Journal that Murthy represents "a new generation engaged in technology," and Pollack said he's "particularly excited" by the idea of Murthy using health IT to help use social media and smart phones to provide better care.
"I would be surprised if he were aggressive on the gun issue," Pollack said, "but I think it's important nonetheless that he was able to win confirmation."
Before it's here, it's on the Bloomberg Terminal.
LEARN MORE