Hostage Standoff in Sydney Ends After 17 Hours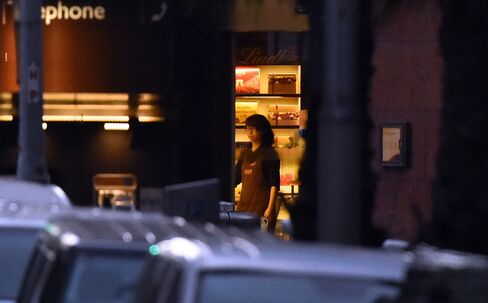 The Sydney hostage crisis entered a second day as police negotiators worked to free the remaining people held at gunpoint in a city-center cafe.
The gunman is Man Haron Monis, a 50-year-old Iranian charged with being an accessory to murder, the Sydney Morning Herald reported. The self-styled cleric has also been charged with more than 50 counts of indecent and sexual assault and is currently on bail, the newspaper said. A police spokesman said he couldn't confirm the identity of the suspect.
Hours after five hostages fled the Lindt cafe in Martin Place, police won't say how many are left in the building. The gunman has forced his captives to display a black flag with Arabic lettering, while lights in the store were turned off some time after nightfall.
"We are doing all we can to set you free," New South Wales Police Commissioner Andrew Scipione said, using a televised news conference yesterday evening to address the hostages directly. "We will be looking after your safety as our number one priority."
Urging Calm
The holdup, which triggered a lockdown in the center of Sydney, comes three months after Australia raised its terrorism alert to the highest level in a decade. The nation's biggest banks closed city branches yesterday, the government delayed its economic-outlook announcement and the local currency fell.
Prime Minister Tony Abbott convened Cabinet's National Security Committee and urged people to remain calm. The siege received blanket media coverage after the gunman took over the cafe at about 9:45 a.m. yesterday, meters from the newsroom of Channel Seven, the nation's most-watched commercial broadcaster.
Monis was charged in November 2013 with being an accessory to the murder of his ex-wife and in April with the indecent and sexual assault of a woman in Western Sydney in 2002, the Morning Herald reported. He's on bail in relation to both cases, it said.
Monis also sent offensive letters to families of Australian solders killed in Afghanistan, the newspaper said. The current hostage crisis followed his last unsuccessful attempt to have the charges related to the letters, for which he was sentenced to 300 hours of community service and placed on a two-year good-behavior bond, overturned, the Herald reported.
He alleged the charges against him were laid for political reasons and likened himself to Wikileaks founder Julian Assange, the newspaper said.
Black Flag
The earliest footage of the siege showed some hostages with their palms pressed against the cafe's window, holding up the black flag. Officers in riot gear and armed with automatic weapons laid siege to the building, which is next to the Reserve Bank of Australia. Offices in the vicinity were locked down and the financial district was left largely empty.
Deputy Police Commissioner Catherine Burn declined to comment on reports by Channel 10 that Monis demanded to speak with Prime Minister Abbott and wanted an Islamic State flag delivered to the cafe. When asked about reports that bombs had been planted around the city, she said police had the situation contained to one area.
"All around the world, authorities are having to adjust to nuances in these types of attacks," said Michael McKinley, a visiting fellow and terrorism expert at the Australian National University. "It's been rare in Australia so people are learning as they go."
Six hours into the crisis, three hostages ran from the cafe and two more emerged about an hour later. They all took shelter behind a line of police officers in riot gear with automatic weapons. Police have declined to say whether the people escaped or were released.
There were probably around 10 staff in the cafe when the gunman entered yesterday morning, said Lindt Australia Chief Executive Officer Steve Loane, whose office is about 1 kilometer away.
"I was in our office, one of my staff walked in and said, ''There's a holdup at the cafe,'" Loane said by phone.
Islamic State
Sai Chenepalle, 36, said he emerged from Martin Place train station at about the time the gunman struck. He saw two customers inside the cafe approach the door with their hands raised. He didn't go in.
"It's very scary," he said, standing a couple of blocks away on Macquarie Street.
Clive Williams, a former military intelligence officer, said the flag appeared to be "Shahada," which is used by some Islamic State followers though isn't the group's official insignia.
The "low-tech, high-impact operation is consistent with what Islamic State has been urging its supporters to do," Williams, a visiting professor at the Australian National University's College of Law, said in a phone interview yesterday.
Locked Down
There may be as many as 15 remaining hostages, who were being forced on rotation to hold up the flag for two-hour intervals, according to Channel Seven, which is located opposite the cafe. In a Twitter posting, reporter Chris Reason described the gunman as unshaven and wearing a white shirt and black cap.
As the crisis unfolded yesterday, KPMG International locked down its office and Tiffany & Co., Rolex and Jimmy Choo were among nearby stores that closed. The U.S. consulate on Martin Place was evacuated and it will also be closed today, according to a statement on its website.
Abbott said it was shocking that people were being held hostage by a gunman claiming political motivation.
The Australian dollar dropped to a four-year low of 82.02 U.S. cents after the news broke and traded at 82.07 cents as of 1:40 a.m. in Sydney. Ten-year government bonds rallied, sending the yield down as much as eight basis points to 2.82 percent, a level unseen since July 2012.
Unfolding Siege
The unfolding siege "may help keep the Aussie under pressure," Janu Chan, a Sydney-based economist at St. George Bank Ltd., said yesterday. "News around the budget and declining commodity prices are also weighing on the Aussie."
Qantas Airways Ltd. flights were diverted around the central business district, but still operated on schedule, the airline said on Twitter. Shares in the country's largest carrier fell 5.4 percent to A$2.27 in Sydney.
Authorities cited the threat posed by Islamic State when they raised the terrorism alert earlier this year. Days later, police carried out their largest anti-terrorism raid, foiling an alleged plot to randomly abduct and behead a member of the public.
An 18-year-old man was shot and killed on Sept. 23 after wounding two counter-terrorism officers in Melbourne with a knife. He stabbed the officers in an unprovoked attack outside a police station, where he was due to be interviewed by police after waving an Islamic State flag inside a shopping center.
Maxine and Stuart Rosenthal, 66-year-old tourists from outside Boston, said yesterday they almost reconsidered their vacation to Australia after reading about potential terrorist threats in Sydney. They said they know people hurt and still recovering from the Boston bombing.
"Enough time passed without incident that we said, 'OK, we'll come,'" Maxine said, standing about 200 meters from the cafe. "It's very upsetting and disconcerting."
Before it's here, it's on the Bloomberg Terminal.
LEARN MORE