This Means War: Republicans Prep for 2016
At a D.C. conference, the Republicans showed off their new muscles, and took turns kicking sand in the face of that White House weakling while trying not to fight amongst themselves.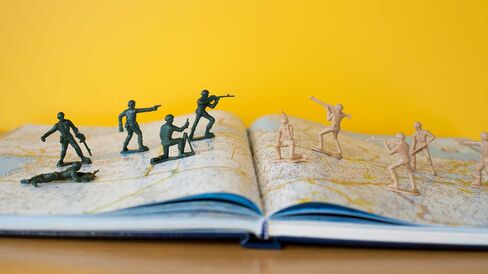 War is "in" again in the nation's capital as Republicans get ready to take control of both chambers of Congress.
Republican senators, representatives, and intellectuals showed off their emboldened, combative spirit on Wednesday at a daylong Foreign Policy Initiative forum held blocks from the U.S. Capitol. Among the targets on the agenda were such imperatives as scrapping the military budget sequester, ramping up sanctions on Iran, arming Ukrainians against the Russians and taking a more aggressive military approach against the Islamic State in Iraq and Syria.
"American public opinion is very much leaning toward greater, more significant action being taken," said Senator John McCain of Arizona, who will take the helm at the Armed Services Committee in January.
"The strategy of leading from behind doesn't work," said Senator Ted Cruz of Texas.
Louisiana Governor Bobby Jindal put it this way: "Preparing for war is the best way to avoid war."
Senator Rand Paul, the Kentucky Republican still seen by many of his colleagues as isolationist and a 2016 presidential prospect along with Cruz and Jindal, didn't speak at the forum but made war headlines anyway with a resolution declaring the existence of a state of war between the Islamic State and the U.S.
Paul, as usual in this era of new threats, was trying to play both sides of the fence, sounding hawkish while simultaneously calling for a less potent executive—which would make it more difficult to respond to new threats . "I believe the president must come to Congress to begin a war and that Congress has a duty to act," Paul said in a statement. "Right now, this war is illegal until Congress acts pursuant to the Constitution and authorizes it."
At a forum entitled, "A World In Crisis: The Need for American Leadership," the war the Republicans were most passionate about is the one with President Barack Obama.
"Manifest disaster," Cruz said in summing up Obama's foreign policy. He said Obama's policies have created a power vacuum that's made the world more "dangerous."
Senator-elect Tom Cotton of Arkansas said he hopes Obama has "learned the lessons of his mistakes in Iraq," meaning that U.S. troops were pulled out too soon after the end of the combat mission in 2010. "It would be the height of folly for the president to repeat his mistake in Afghanistan that he made in Iraq," Cotton said.
Regarding U.S. nuclear negotiations with Iran, Cotton said, "The president's been acting like a lovestruck teenager" and "Iran is getting everything they want."
"Arkansans don't want to retreat from the world," Cotton said.
Some infighting among the party's more- and less-hawkish factions was also unavoidable. "The internationalist wing of the Republican Party gained some significant victories in the last election," while the isolationist wing did not, McCain said, a swipe at Paul.
Off-mic, McCain said of Paul, who'd suggested a day earlier that McCain was always looking for wars to start, "I don't think he has any credibility."
The leading unannounced Democratic presidential contender, Hillary Clinton, in a speech Wednesday a few miles away at Georgetown University also talked about war. The scope of her remarks was softer and politically safer, focusing on the potential for strengthening of the role of women in the context of armed conflict, national security and political power. Later in the day, Clinton swung by the White House for an informal, hour-long "catch-up" session with Obama in the Oval Office. "As is well known, President Obama and Secretary Clinton enjoy getting together in person on a regular basis," said a White House official. Clinton's spokesman had no comment.
At the Republican conference, the former secretary of state was treated with kid gloves. McCain even had a nice word to say about Clinton's record on foreign policy. "She's, uh, okay," he said—performing that rare act of actually offering faint praise.
McCain, Cruz and other Republicans who spoke Wednesday, talked about using their new power to end to the military budget sequester and allow more defense spending. "The impact of sequestration is having a serious deleterious effect on our ability to defend our nation," Cruz said. "We should not be holding military spending hostage to efforts by the administration to jack up non-defense spending."
Republicans also spoke of Obama's approach to the Islamic State in the context of the morass of the Vietnam War. "We really are returning back to the days of LBJ" and the White House picking bombing targets in Vietnam, Cotton said. McCain, a former prisoner of war and a man who seemed to be advocating for picking even more bombing targets, invoked "gradual escalation" and the legacy of Robert S. McNamara, concluding, "It reminds me of another war long ago and far away."
Before it's here, it's on the Bloomberg Terminal.
LEARN MORE