How a Conservative Backlash Silenced #Ferguson Reporters for All the Wrong Reasons
On the right, it's becoming conventional wisdom that the reporters who flooded Ferguson are responsible for all the anger and violence.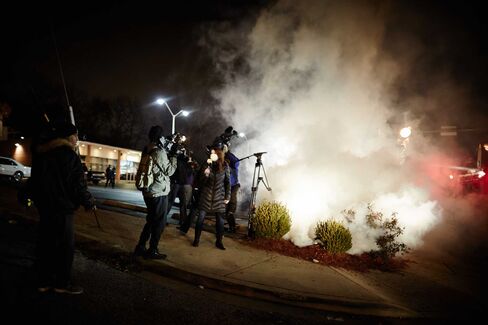 On August 15, after the killing of Ferguson, Missouri teen Michael Brown had surged into the national consciousness, the Washington Post's DeNeen L. Brown filed a story from a town up the road. There were "dark blue undercover police cars parked outside the house of Darren Wilson." That house was located on "Manda Lane in Crestwood." On August 16, the same details appeared in a story co-bylined by Brown, Jerry Markon, and Wesley Lowery. "Dark blue undercover police cars were parked outside his house on Manda Lane," they wrote. Both stories made it clear that Wilson, the officer who killed Brown, had taken himself elsewhere.
On November 24, after a grand jury opted not to indict Wilson, the New York Times ran a story by Julie Bosman and Campbell Robertson about how the police officer had "quietly" gotten married while avoiding the press. Wilson and his wife owned a home "on Manda Lane in Crestwood." The detail was included near the end of a story that briefly included an image of the couple's marriage license. (It included the address of a law firm, but not Wilson's address.)
What had been innocuous information became the kindling for a media bonfire. They attracted the attention Charles C. Johnson, the conservative journalist whose previous social media interactions include: tweeting call-in details that allowed activists to crash a Thad Cochran presser; tweeting the name of the Dallas "Ebola nurse" before big news outlets decided to reveal it; and reporting that ABC News paid "mid-to-high six figures" for an interview with Darren Wilson. When both ABC News and Wilson himself denied the claim, Johnson stuck by his "NBC source with knowledge" and suggested that ABC might have made a "backroom deal" as it did to interview Casey Anthony.
The upshot of Johnson's stories is that the media can't be trusted. The aftermath of the "Manda Lane" story is a harassment campaign against two reporters who, in the view of conservative readers, risked the life of Darren Wilson. On the right, the story of #Ferguson is that a vile and biased media inflated a simple case of self-defense into a bogus "racism" story. In this storyline, Wilson is the real victim, and his aggressors need to be shamed out of their jobs and comfort.
"The New York Times, whether consciously or not, has just endangered Darren Wilson's life," wrote Fox News media reporter Howard Kurtz. "I mean, why not add a locator map?" On November 25, Johnson published a story at his independent GotNews website with the headline "Why Can't We Publish Addresses Of New York Times Reporters?" Spoiler: He didn't agree with that headline.
"It would be wrong, for example, to publish Bosman's address," wrote Johnson, publishing the reporter's address. "It would be similarly wrong to publish the address of Robertson, too." Ditto. "So why do journalists think they are beyond examination?"
What followed was a crowdsourced campaign of trolling that succeeded in quieting Bosman and Robertson. Neither reporter has tweeted since November 25. Robertson, whom I met this year covering a story in Louisiana, has taken steps to remove his family from any possible threats. A simple Twitter search reveals dozens of people tweeting at the reporters, at the rate of about one per hour, spreading their addresses. While liberal Twitter was pummeling a GOP staffer who'd written an ill-advised criticism of the First Daughters, elements of conservative Twitter were attacking the Times reporters.
"You are a stupid ignorant slut," wrote one Twitter user. "Will you rest well tonight at [Bosman's address]?"
"If u support #DarrenWilson," wrote another, "send #juliebowman [sic] the reporter who pub'd his home address, pizza to [Bosman's address] at 10pm."
"If you're in #NewOrleans this guy needs help," wrote another. "He's giving away #Christmas $$$." That was followed by Robertson's address.
Johnson had previously been suspended from Twitter for revealing the name of the "Ebola nurse." But he was not personally tweeting the NYT reporter addresses. "Twitter decided without warning to permanently suspend my account after I broke a series of stories about Ferguson and Michael Brown verdict at Gotnews.com," Johnson wrote in a November 26 email to GotNews readers. "Twitter has not provided a reason why. Apparently they are OK with the New York Times publishing the address of Darren Wilson, who is targeted by the Black Panthers."
The harassment of Bosman and Robertson continued. Later on November 26, a Rockford, Illinois station reported that a local woman named Julie Bosma was being mistaken for Bosman and had received "more than 30 calls in less than 24 hours." Bosma didn't agree with the NYT's decision—"I think that was very irresponsible of her to post that information, I really do"—and Johnson hadn't printed her address. He retweeted a Twitter user who blamed Bosman for the harassment; and he cited "Chicago police department sources" who said Bosman had been calling her district station to report threats and prank food deliveries; he retweeted a user who appeared to have found the name of Bosman's husband and child.
All the while, Johnson was looking for the criminal records of mainstream media reporters who'd covered the Ferguson story. He reported that the Post's Lowery had a (paid) speeding ticket and had not updated his driver's license -- this or any encounter with the police might bias the journalists expected to cover Ferguson. Johnson solemnly swore to continue to "take down" journalists.
https://twitter.com/ChuckCJohnson/status/538876813632471041
https://twitter.com/ChuckCJohnson/status/538877243523485696
https://twitter.com/ChuckCJohnson/status/538932419148001282
Johnson's made enemies, too. On Twitter, he's said he's had to block "30-40 people a day." Anyone who sees his mentions can read the vitriol and claims of "racism" directed his way; anyone can see how Johnson prefers to respond to that.
https://twitter.com/ChuckCJohnson/status/538889994325082112
https://twitter.com/ChuckCJohnson/status/538938759685738496
https://twitter.com/ChuckCJohnson/status/539194720526692352
https://twitter.com/ChuckCJohnson/status/538846350037618688
The conservative backlash to the "Manda Lane" story isn't really about Johnson. It's about the press. And on the right, it's becoming conventional wisdom that the reporters who flooded Ferguson are responsible for the anger that burned down businesses, interrupted Christmas Tree lightings, and inspired the New Black Panther Party (an impotent but media-savvy hate group) to threaten Darren Wilson and anyone who defended him.
https://twitter.com/ChuckCJohnson/status/539193805723811840
https://twitter.com/ChuckCJohnson/status/538850321800249344
"Aided and abetted by a compliant national media, the Ferguson protestors spun a dishonest or misinformed version of what happened," wrote National Review editor Rich Lowry in a November 25 column. On November 28, Pulitzer Prize-winning cartoonist Michael Ramirez published a lifelike drawing of Brown with the caption "the person responsible for the death of Michael Brown." Wilson is being portrayed as a decent man who did what he had to, court of public opinion be damned. And there's precedent for that.
The irony, lost or ignored, is that Wilson's street was not published as an incitement to anything. It was a detail known to media on the ground. Wilson wasn't even in the house. That was the point.
"The story on Wilson has basically been 'no one knows anything about him, he completely disappeared…' since the first week, and that's a story that you can only write so many different ways," wrote Lowery in an email. "I've never gotten much blowback for the information we have posted about Wilson."
Before it's here, it's on the Bloomberg Terminal.
LEARN MORE