The Only Democratic Operative With Holiday Cheer
Senator Jeanne Shaheen's campaign manager is one of the few Democrats pleased about 2014.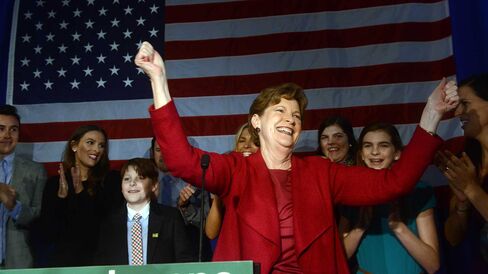 Mike Vlacich might be the only Democratic operative in the country who will give thanks on Turkey Day. The New Hampshire Senate campaign he managed for incumbent Jeanne Shaheen was the one blue winner in a lava field of red.
That makes him a standout in the ranks of this year's Democratic campaign managers and consultants and a plum staff pick for such potential 2016 candidates as Hillary Clinton in need of a New Hampshire consigliere. Even within the state, the three-percentage-point victory the Shaheen campaign achieved over Republican Scott Brown is noticeable. Granite State Democrats lost one of two House seats in Congress, control of the state's House of Representatives and the majority on the state's executive council, a key policy making body. Nationally, Democrats lost at least eight U.S. Senate seats this year and surrendered control of the chamber. They could lose a ninth in Louisiana in a Dec. 6 runoff.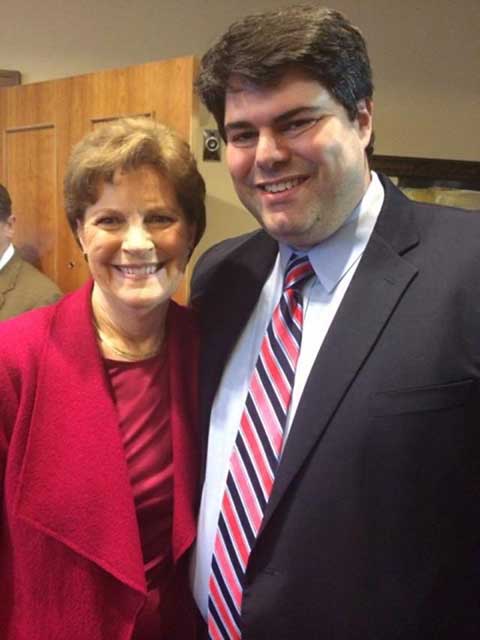 "I'm very grateful," Vlacich, 41, said this week after returning from Disney World with his family. "We're still enjoying what just happened."
The New Hampshire win came from a homegrown campaign packed with longtime Shaheen staff that stressed the candidate's in-state record at every turn to keep attention away from such national issues as health care where Democrats were polling badly. Vlacich's background personifies the local focus the campaign sought to project. He graduated from the University of New Hampshire, has lived and worked in the state ever since—on Shaheen's payroll for a good portion of that time. Among the jobs he's held for her: caseworker, scheduler and as her point person for economic development. When not working for her, he's been employed by a string of presidential contenders going back to former President Bill Clinton in 1992.
"Knowing a place does matter, if you can keep your thought process nimble," said Democratic strategist Charlie Baker, a founding partner with the Dewey Square Group. Baker and Vlacich consulted frequently, particularly as the race tightened in October. That's when Vlacich proved to be "unflappable," Baker said. He explained again and again that narrowing poll numbers were expected and didn't overreact or change strategy as Brown pummeled Shaheen on the Ebola outbreak and the Islamic State threat in the final weeks of the campaign. "It was a natural settling of the race," Vlacich said.
When most of the Washington political class doubted that Shaheen would have a tight race, or that Scott Brown would even run against her, Vlacich viewed the former Massachusetts senator as a likely and formidable opponent. Vlacich also paid attention to polls that predicted a generic Republican would beat a Democrat, and those that showed New Hampshire residents wanted to see the Senate controlled by Republicans. "We knew we had some real head winds that we'd be walking into," Vlacich said.
To reshape that environment, he pushed the campaign to raise cash early and invested heavily in online fundraising, which hadn't been done before for a statewide race. At the time, it felt like a risk. It required a large initial outlay of cash, with no guarantee of return. Vlacich used rumors that Brown might run as early as April 2013 to pique national interest and raise money from around the country. The bet paid off: The campaign received about $4 million of its $14.6 million haul via online solicitations.
When Brown emerged as the contender, Vlacich did his homework, said Mary Anne Marsh, a Democratic strategist with the Dewey Square Group in Massachusetts. "He was always asking questions," Marsh said. He talked to operatives and consultants in the Bay State who'd worked on campaigns against Brown to learn the story behind his numbers.
National strategists didn't view New Hampshire as competitive until fairly late in the game. That meant the campaign wasn't initially part of the ballyhooed $60 million Bannock Street Project, a get-out-the-vote initiative spearheaded by the Democratic Senatorial Campaign Committee. Instead, Vlacich planned to rely on the grassroots network Shaheen had developed—and maintained—during her six years in the Senate and time in the governor's mansion. "You can't just build it in the spring expecting that it will appear in the fall," Vlacich said. In the end, the DSCC kicked in about $700,000 for the New Hampshire ground game.
The Democratic senatorial committee also spent about $3.9 million against Brown, an amount significantly lower than other races; the state ranked seventh on the DSCC's spending list, behind North Carolina, Iowa, Colorado, Arkansas, Alaska and Louisiana, according to the Center for Responsive Politics. Democrats lost in all of those places save Louisiana, where Democrat Mary Landrieu is behind in a runoff.
"They ran a near-perfect campaign," said Marsh. "They had a strategy and they never lost sight of it for one day."
CORRECTION: An earlier version of story misstated Charlie Baker's surname.
Before it's here, it's on the Bloomberg Terminal.
LEARN MORE