Rubio Wants Immigration Reform, Just Not Like This
Potential Republican presidential candidates have been quick to criticize President Barack Obama.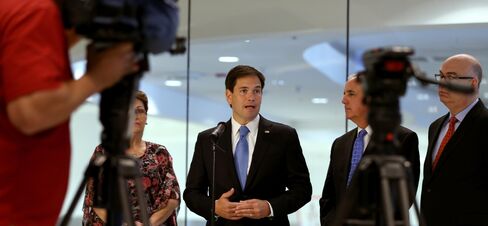 Senator Marco Rubio, who has criticized the poll-testing of policy in national politics, said was opposed to President Barack Obama's immigration action because it was too divisive for the country.
While other Republican aspirants have criticized Obama's actions as executive overreach, Rubio focused on style over substance. After writing legislation last year that included measures similar to the actions Obama is taking, Rubio said Obama's go-it-alone approach makes it less likely immigration reform will pass Congress.
"It divides the country," Rubio told reporters in Washington on Thursday ahead of Obama's speech. "That's the argument I'm making. That it's going to make it harder to achieve this."
Rubio also acknowledged that his bill has nearly no chance of passing after the Nov. 4 elections when "virtually every new member elected to the House on the Republican side and the Senate side—all of them—are in opposition to the Senate bill."
Rubio, a Florida Republican, was atop most primary polls of potential presidential candidates last year before taking a lead role in passing a bipartisan immigration bill in the Senate. The bill included $46.3 billion for border security, but also a path to citizenship for many of the 12 million undocumented immigrants in the country, a deal-breaker for many conservatives. The bill never received a hearing in the Republican controlled House and Rubio's standing with the conservative base faded.
Other potential Republican presidential candidates also have been quick to criticize Obama for taking any action at all. Wisconsin Governor Scott Walker said Congress should sue the president. Senator Rand Paul of Kentucky said Obama "has no right to issue executive amnesty."
Ohio Governor John Kasich said it was a mistake to take executive action, but wouldn't criticize the substance until reads the order. Kasich, a former U.S. House member, said he was open to a path to citizenship.
"I also voted in '86 for the Reagan bill," Kasich said. "We have now about 12 million people here. I'm also a different guy than I was years ago ... I would say I'm older and probably a little wiser. I'm not being specific because it's not my issue."
The White House has said that Republicans can nullify Obama's immigration action by passing comprehensive immigration reform legislation. The administration has also pointed out that two of the last three Republican presidents—Ronald Reagan and George H.W. Bush—extended amnesty to undocumented immigrants without the kind of political explosion that Republicans are threatening now.
"They weren't controversial at the time," Rubio said of those previous actions. "There was support for it. That's a factor."
Rubio said that, ultimately, the immigration issue can only be fully addressed after modernizing the legal immigration system and "winning the confidence of the American people that illegal immigration is under control."
"If you do those two things I think you can find a very reasonable, compassionate, but responsible way of addressing the plight of those who have been in this country a long period of time illegally," Rubio said.
Peter Cook and Margaret Talev contributed to this report.
Before it's here, it's on the Bloomberg Terminal.
LEARN MORE