Louisiana's Landrieu Silent at Almost 70% of Energy Hearings
As the Senate heads to a vote on Keystone pushed by Senator Mary Landrieu, a review shows her shift to energy priorities is relatively new.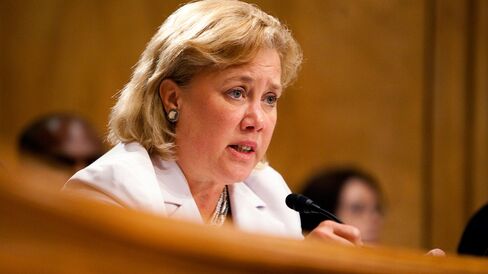 Democratic Senator Mary Landrieu is presenting herself as a leading voice for Louisiana on energy issues in the U.S. Capitol, showcasing her inside influence by forcing a Senate vote on a bill that would allow construction of the Keystone pipeline, a project backed by industries and voters in her state.
Yet her outspokenness and perseverance in legislative forums is relatively new, emerging in the 10 months since she took over the chairmanship of the Senate Energy and National Resources Committee and as she faces an uphill battle in a Dec. 6 runoff against Republican Representative Bill Cassidy.
Between January 2009 and this week, Landrieu didn't speak or submit written testimony or questions at almost 70 percent of the energy committee hearings, according to an analysis of congressional records, videos and transcripts. Her attendance at 137 of the 200 hearings of the full panel or her subcommittees during that six-year period cannot be confirmed through public records.
The three-term incumbent is making her clout a centerpiece of her re-election campaign, telling voters she will use her experience and plum committee assignments to work for the state. "We need seniority in the Senate. We need muscle," she told supporters on Election Night. "The Louisiana voters know they can count on me."
Since taking over the committee's chair in February, Landrieu has delivered on that promise, speaking at all 10 full committee hearings in Washington. Landrieu also hosted two field hearings in Louisiana, during which she touted the benefits of her position. "When the people of Louisiana hold this gavel, good things happen, in my view, for the industry, the oil and gas industry, which is so important and vibrant in our country today, our state, the Gulf Coast region and the nation," she said at a July field hearing in Lafayette, La. "This February, the people of Louisiana got this gavel back after waiting in line for 20 years."
But Landrieu hasn't always been so vocal on the energy panel. From 2009 to 2010 she was silent at or skipped 65 of 87 hearings. From 2011 to 2012, she didn't say anything at or didn't attend 50 of 66 meetings. And from 2013 to 2014, her presence was undetectable at 22 of 47 sessions. Some of those hearings covered important issues for her coastal state, including the potential for oil spills, gas prices, the Department of Energy's budget, nominations of key energy regulators, the implementation of the stimulus bill, and the current status of the Strategic Petroleum Reserve.
Landrieu also often wasn't heard on climate change and appeared to skip entirely a hearing on sea level rise–a critical issue in coastal Louisiana. "Senator Landrieu isn't here today to speak to it or she would be, I'm sure, passionately pounding the desk here. I'll do so on her behalf," said Senator Lisa Murkowski, an Alaska Republican, at the April 19, 2012, hearing. Landrieu aides said their boss was voting on legislation allocating money to housing initiatives in the Appropriations Committee when Murkowski made her remark.
It's not uncommon for lawmakers to miss some hearings while juggling hectic schedules. Sometimes they drop in for just a few minutes to ask a question or submit written testimony rather than making a personal appearance. Besides leading the energy committee, Landrieu chairs the Appropriation Committee's subcomittee on Homeland Security, and sits on the committees for Homeland Security and Government Affairs, and Small Business and Entrepreneurship, which she chaired from 2009-2014.
But Landrieu has gone to lengths in her re-election bid to underscore her value as a congressional power player on energy, even catching flak from Republicans for recreating a scene of her attending an energy committee hearing in a campaign ad.
To assess Landrieu's energy record over her current six-year term, Bloomberg Politics reviewed hundreds of videos of committee and subcommittee hearings and transcripts published by the U.S. Government Printing Office. The reporting excluded a dozen field hearings held from Alaska to Vermont, which are sometimes sparsely attended by members because of their unique focus and travel requirements. It also did not include meetings of the subcommittee on Water and Power, of which Landrieu is not a member.
Landrieu did attend 11 0f the 19 so-called "business meetings," during which members fine-tune or "mark-up" legislative language and deal with committee organizing issues. When those gatherings, of which there were 53 since 2009, could be reviewed and are added to her hearing attendance record, Landrieu's absentee rate drops slightly, to 66 percent.
"For someone who claims to be fighting for Louisiana every day on the energy committee, the fact that Landrieu missed substantial committee hearings and didn't speak at most of them is telling about how seriously she takes her Senate duties," said Jeff Bechdel, communications director for America Rising, a Republican super-PAC.
Landrieu campaign officials argued that if the senator missed a hearing, it was because she was chairing or participating in another committee meeting or was handling other important Louisiana business. Many of the meetings she skipped, they said, had little relevance to her state.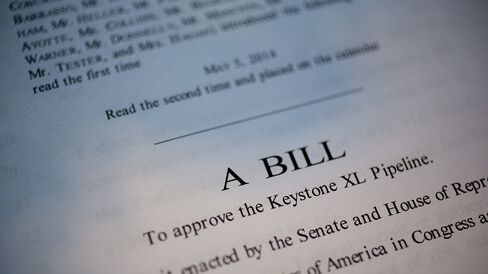 "Senator Landrieu has always represented Louisiana's best interests," said Fabien Levy, a campaign spokesman. "She's not only been present at every meeting of the full Energy Committee since becoming chair earlier this year, but, as a senior member of the committee, Senator Landrieu has fought to save the Midla pipeline, has secured a floor vote on Keystone, and helped ensure Louisiana receives its fair share of offshore oil revenue. She's brought more power, more jobs, and more oil and gas to Louisiana."
Landrieu's staff didn't provide data to refute the Bloomberg Politics compilation of her attendance record.
Without access to her daily schedule, there's no way to know whether Landrieu attended the hearings where there's no record of her speaking. The secretary of the Senate doesn't keep records of committee attendance.
Her opponent, Cassidy, has skipped several hearings while serving on the House Energy and Commerce Committee, including meetings on the Department of Energy oversight and budget, implementation of the health care law, and the Environmental Protection Agency's greenhouse gas regulations.
Political attacks aimed at missed Washington meetings are a classic campaign tactic used to discredit an opponent's work ethic and understanding of home-state priorities; such criticism was aimed this year against Republican Scott Brown in his New Hampshire race for missing border security hearings, Democratic Senator Mark Udall of Colorado and Democratic Senator Kay Hagan of North Carolina for skipping Senate Armed Services meetings, and candidates from both parties vying in the Iowa senate race.
In Landrieu's case, it fits into a Republican pattern of catching the senator on technical violations. This summer, a Washington Post report noted that the New Orleans house Landrieu listed on papers qualifying her for the ballot was actually her parents'. Her campaign countered that though she and her husband own a $2.5 million Capitol Hill home, the couple filed taxes and voted in Louisiana. Republicans also seized on her improper use of taxpayer funds to charter flights to campaign events. An analysis by her lawyer found more than $33,000 worth of flights were mistakenly paid by her Senate account. Landrieu blamed sloppy bookkeeping and reimbursed the Senate for the charges.
Though those infractions provided fodder for her opponents' TV ads, the distinction this time is that her performance on the energy committee is one of the cornerstones of her re-election campaign.
A current attack ad her campaign is running against Cassidy shows her shuffling papers in what appears to be a wood-paneled committee room. Then it cuts to Cassidy fumbling his words and a narrator reminds viewers of her power: "We'd replace Mary Landrieu's clout ... for this?"
MORE ON BLOOMBERG POLITICS
Before it's here, it's on the Bloomberg Terminal.
LEARN MORE