Meet the Teenagers Putting Pressure on Chris Christie
Twin sisters from New Jersey gather 125,000 signatures on a petition asking the governor to outlaw a farming technique seen as inhumane.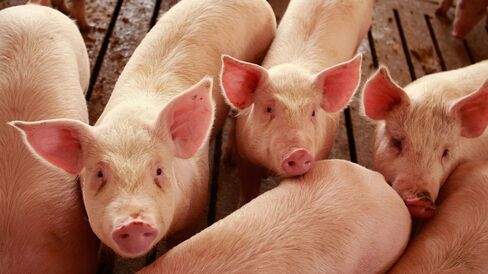 New Jersey Governor Chris Christie faces a porky dilemma.
On his desk sits a bill outlawing the use of gestation crates in pig farming—a controversial practice that in essence, puts pregnant sows in a box while awaiting the birth of piglets. The bill easily passed both houses of the New Jersey legislature last month, and Christie has until early December to sign it. He vetoed a similar bill last year.
What's the hangup? There really aren't many pigs in New Jersey–only about 8,000, according to a representative from the Humane Society who spoke to MSNBC. But there are in Iowa, where pig farming is big business and the first presidential nominating contest is held every four years. Iowa Governor Terry Branstad, a Republican, has weighed in against the measure, saying the crates protect piglets from being crushed.
Enter 17-year-old twins Abigail and Elizabeth Fournier. About a month ago, the girls from Far Hills, N.J., started a petition on change.org that ultimately topped 125,000 signatures, asking Christie to sign the bill. This week, they drove to Trenton with their mother to deposit the petition (which amounted to thousands of pages) at the governor's office.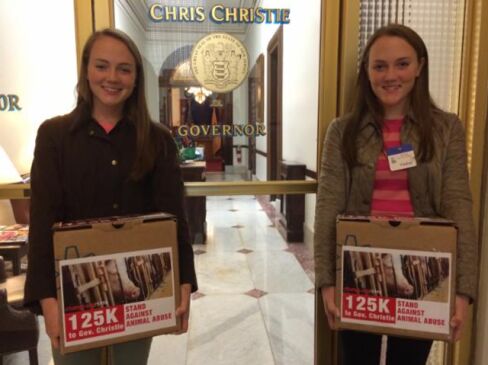 As it happens, the twins are members of their school's Young Republicans club, and Elizabeth is the vice president. Both take seriously (and speak eloquently about) the potential political ramifications for the governor, a Republican, but agree that he should take the risk.
"We understand that the governor may be looking toward 2016," Abigail said. "Because this bill is something that 93 percent of New Jerseyans support, and because his job as governor is to help New Jersey, we hope he will support it." That statistic comes from a September Mason-Dixon poll, which Bill Maher cited in a recent op-ed.
The twins attributed some of the petition's success to the bill's celebrity attention, from Maher as well as Martha Stewart and Danny DeVito.
Kevin Roberts, a spokesman for the governor, said in an e-mail that the bill remains under review.
The twins are the daughters of prominent hedge fund manager Alan Fournier, who along with his wife, Jennifer, is a supporter of the Humane Society. Through the family's connection to the organization, the twins wound up testifying against gestational crates last year before the state's agricultural committee last year.
"My girls have run so much of this themselves," Alan Fournier said. "They're sort of these type-A, organized people."
Before it's here, it's on the Bloomberg Terminal.
LEARN MORE