Tom Steyer: $58 Million Man
Candidates, committees and super-PACs report raising millions more in the final comprehensive campaign finance reports filed before the Nov. 4 election.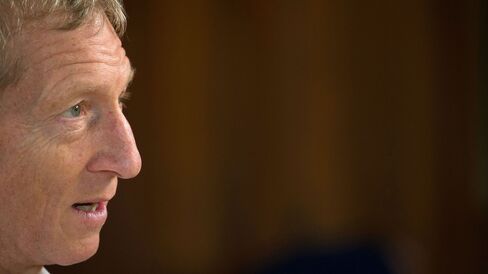 Tom Steyer is extending his lead as the biggest super-PAC donor of the 2014 congressional elections.
The California billionaire and climate-change activist gave $16 million more to his NextGen Climate Action Committee in the first two weeks of October, bringing to $57.6 million his aggregate donations to his organization. Steyer's super-PAC, which made a filing yesterday with the Federal Election Commission, is opposing Republican candidates in some Senate and governors' races.
They include Cory Gardner, the Colorado congressman leading in polls against Democratic Senator Mark Udall in one of the nation's most consequential Senate races. Here's a two-minute ad from Steyer's PAC that debuted Wednesday in Colorado Springs, according to ad-watcher CMAG:
https://www.youtube.com/watch?v=ipVkTdVcViU
NextGen joined federal candidates, committees and other super-PACs in filing updated campaign-finance documents by a Thursday deadline. The documents are the last comprehensive campaign-finance filings before the Nov. 4 election.
A full accounting of giving by Steyer and other big donors isn't possible because they can also donate big sums to nonprofit issue-advocacy groups that don't disclose donors. Super-PACs, which must disclose donors, may accept unlimited donations to pay for so-called independent expenditures that aren't made in concert with candidates' campaigns.
Here's a look at some other notable super-PAC activity during the first two weeks of October:
Koch brothers: Freedom Partners Action Fund, a political fund connected to the billionaire Republican businessmen Charles and David Koch, raised $5 million from sources including Texas businessman Paul Foster and the Arkansas-based Mountaire Corp. Each gave $1 million.
Here's a spot Freedom Partners introduced this week opposing Udall and promoting Gardner:
https://www.youtube.com/watch?v=aRwnNmmAVDU
Adelson: Sheldon Adelson, the billionaire Nevada casino executive and the biggest donor to outside groups in the 2012 election, sent $5 million to Congressional Leadership Fund, which is working to expand the House Republican majority. Adelson's donation accounted for 74 percent of the super-PAC's $6.77 million in receipts. The $650,000 from California physicist Charles T. Munger Jr. pales in comparison.
American Crossroads: The super-PAC advised by Karl Rove raised most of its $2.9 million from Arkansas businessman Warren Stephens ($1.25 million) and the Jerry Perenchio Living Trust ($1 million), associated with the former chairman of Univision Communications Inc. American Crossroads is active in a mix of House and Senate races.
Pro-Orman PAC: Committee to Elect an Independent Senate, a super-PAC aiding independent Greg Orman's campaign to unseat Republican Senator Pat Roberts, raised $727,000 from six businessmen including Thomas Layton, the former CEO of OpenTable. Layton, who's also treasurer of the super-PAC, gave $283,333.
Rockport Capital's Peter Ackerman donated $233,334 to the pro-Orman effort and previously made political donations to President Barack Obama, Vice President Joe Biden and Republican Senator John McCain of Arizona. John H. Burbank, the founder of California-based Passport Capital, gave $50,000 to Committee to Elect an Independent Senate and previously donated to Hillary Clinton's 2008 presidential campaign and to Republicans including Eric Cantor and Rob Portman.
Alticor: The Michigan-based parent of Amway sent $250,000 to a super-PAC opposing Democratic Representative Gary Peters in that state's Senate race. Amway is synonymous with the DeVos family, which is very active in west Michigan philanthropic and Republican donor circles. Despite the anti-Peters spending, the congressman has opened things up in his race against Republican Terri Lynn Land.
The super-PAC, called B-PAC, also is aiding Republican Senate candidates in Colorado and Iowa, where the party has better shots of winning Democratic-held seats. Here's an ad that B-PAC is running to help Gardner in Colorado:
http://www.youtube.com/watch?v=GNZe6untVS8
Before it's here, it's on the Bloomberg Terminal.
LEARN MORE