Why Joni Ernst's Gun Comments Might Hurt Her Chances
A 2013 poll showed Iowans were in favor of a variety of gun restrictions.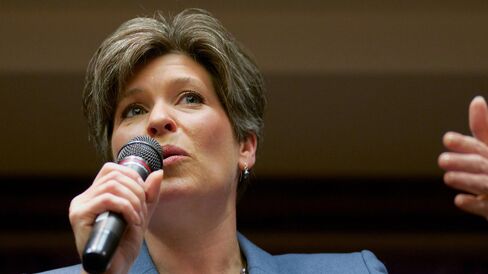 Do Democrats hoping to thwart Republican Joni Ernst's Senate bid have their magic "gotcha" moment? Remarks that Ernst made in 2012 when speaking to an audience at the National Rifle Association and Iowa Firearms Coalition Second Amendment Rally in Seasboro, Iowa were published Wednesday by the Huffington Post, and seemed to reinforce the argument that Ernst is a member of the far right.
"I have a beautiful little Smith & Wesson, 9 millimeter, and it goes with me virtually everywhere," Ernst said at the rally. "But I do believe in the right to carry, and I believe in the right to defend myself and my family—whether it's from an intruder, or whether it's from the government, should they decide that my rights are no longer important."
Of course, the soundbite that caught the attention of many Democrats was the part about Ernst using her gun to defend herself from the United States government. Democratic strategist Paul Begala took to Twitter:
https://twitter.com/PaulBegala/status/525369829881290752
Ernst was far less specific than Begala, and her supporters were quick to point that out. Still, the question of how Ernst's 2-year-old statement will play with voters in 2014 remains to be seen. She's in a neck-and-neck race with Democrat Bruce Braley.
Some hints might be found in a 2013 Des Moines Register poll, in which 33 percent of Iowans surveyed said they thought the state's gun laws should be more restrictive. Just over half of respondents – 53 percent – said they were just right, and 11 percent indicated that they were too strict.
But when the poll asked about specifics, the responses were less favorable to opponents of gun control, and might give Braley's supporters some reason to hope that Ernst's comment will haunt her.
88 percent of Iowans said they favored "requiring background checks for all gun sales, including those at gun shows and by private sellers."
60 percent said the state should ban "military-style weapons, commonly known assault weapons."
59 percent said Iowa should limit the "size of ammunition clips to 10 rounds."
Before it's here, it's on the Bloomberg Terminal.
LEARN MORE