Republicans Pounce on Obama's Midterm Misstep
In describing why he could not campaign for some of the most vulnerable Democrats in the midterm elections, the President seemed to offer his political enemies a gift.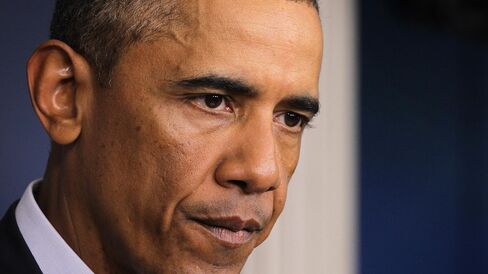 Republicans reacted downright gleefully today to President Obama's gift-wrapped campaign ad last night on Al Sharpton's MSNBC show. In case you missed it, he was counting all of the ways that he and Congressional Democrats agree at a time when they are saying they don't agree at all:
"The bottom line is though, these are all folks who vote with me, they have supported my agenda in Congress, they are on the right side of minimum wage, they are on the right side of fair pay, they are on the right side of rebuilding our infrastructure, they're on the right side of early childhood education."
House Speaker John Boehner used the President's words to hammer home his message that Senate Democrats have stood in the way of House GOP job bills.
https://twitter.com/SpeakerBoehner/status/524586162959421441
Virginia Senate candidate Ed Gillespie let Obama's words speak for themselves.
https://twitter.com/EdWGillespie/status/524552570543828993
As did the RNC, the organization Gillespie once chaired:
https://twitter.com/GOP/status/524366962441592832
The White House seemed to understand that the president had, while not speaking untruthfully, put his foot in his mouth, and sought to clarify the remarks.
"The point the president made is, he's looking for partners in Congress who are supportive of minimum wage, supportive of laws than ensure women get equal pay for equal work … these are the kind of policies Democrats in Congress have stepped up to the plate to support," White House spokesman Josh Earnest told reporters on Tuesday. "They don't support them because the president supports them, they support them because they're the right thing to do, and the president is pleased to have partners in Congress who are willing to work with him to make progress on those issues."
Such is the bind the president now finds himself in when it comes to attempting to help bolster the candidates now suffering, in part, due to his own poll numbers. While Obama has avoided setting foot in battlegrounds like Arkansas, Louisiana, Iowa, Kansas, and Alaska, even the remarks he makes about his inability to do so provide more ammunition for Republicans.
"[T]here's nothing in these states that he can do," Senator Joe Manchin told The Washington Post when asked what the president could do to help moderate Democrats. "He has to do his job, and that's the most important thing that he can do. People already have perceptions, so him coming to these states is not going to be productive for candidates. And it's a shame that we've gotten to that."
Before it's here, it's on the Bloomberg Terminal.
LEARN MORE