Pryor's Thesis Isn't Pro-Segregation, But It Shows Why He May Lose
Pryor's 1985 thesis predicted the weaknesses in his 2014 re-election campaign.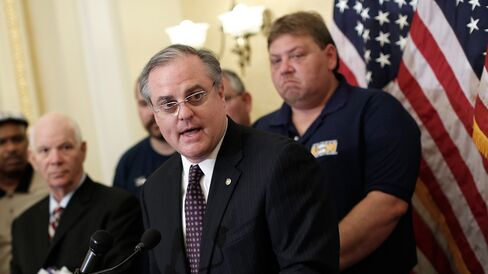 The key to Senator Mark Pryor's fate in the midterm elections lies in the pages of his 1985 college thesis, which reemerged Tuesday thanks to The Washington Free Beacon. The Beacon story implies that Pryor may be a racist who bemoaned desegregation in Arkansas, but Pryor's real problem lies in the paper's theory on how Arkansas Democrats win elections: they have to prove they put state before party.
Under the headline "Arkansas Democrat Mark Pryor: Desegregation an 'Unwilling Invasion,'" The Free Beacon published a report Tuesday that selectively quoted from Pryor's thesis, pointing to a section where he described Arkansas's rejection of federal desegregation efforts.
Pryor "argued that the federal government's desegregation of Arkansas's largest public school in 1957 was an 'unwilling invasion' that took 'a local problem out of the local authorities' hands' and led to deep suspicions of democracy in the state," according to The Beacon. The story implies that Pryor is more or less a pro-segregation racist, or at least that's how it's playing online. This is a pretty representative tweet of the response:
https://twitter.com/Raffiwilliams/status/524609361310937088
Pryor's paper, "The Two Party System in Arkansas," addressed why Democrats had dominated the state's politics up until that point. If you read the entire paper, it's clear that Pryor condemned the behavior of Democratic Governor Orval Faubus, who defied an order to desegregate a local high school. As he wrote:

Why did Faubus benefit politically from the federal government's intervention? Pryor argued in his paper that the federal action led Arkansas residents to embrace the party that fought desegregation and was already in power, much like Russian historians argued that a fear of invasion "made that population desire strong, even brutal government."
"The federal government had again forced its will on the people of Arkansas … The feeling inside the Arkansas psyche could have been to unite behind one strong party for protection," Pryor wrote.
What's important to note here is that the Arkansas Democrats of 1957 are not the same Arkansas Democrats of the 1970s and '80s, who are not the Arkansas Democrats of today. (The same goes for Republicans.) In 1966, the state elected progressive Republican Winthrop Rockefeller to governor, who the Arkansas Gazette later called "the most peculiar example of political success Arkansas had ever seen — a liberal Republican in a conservative Democratic state."
That's Pryor's challenge today — phrases like "liberal Republicans" and "conservative Democrats" have become oxymorons, and political polarization is the worst it has ever been. But at the time Pryor wrote his thesis, Democrats covered a wide range of (conservative) Arkansas values, which "allowed tremendous flexibility and adaptability to every nook and cranny in the state."
Most of the advantages of being an Arkansas Democrat when Pryor's father ran for re-election to the Senate in 1984, the year Mark Pryor followed him on the campaign trail, are not available now.
Pryor argued repeatedly in his thesis that Arkansans voted for Democrats out of habit – that's no longer true.
He also argued that "Arkansans tend to vote Democratic because the best candidates tend to be Democrats," and the best candidates were Democrats because 1) Republicans tended to lose and 2) the Democratic party was conservative enough to accommodate them. Now that Arkansas has a competitive two -arty system, that's also no longer true.
And worse for Pryor, the ways that his father won aren't working out for him. In his second Senate race, in 1984. David Pryor also had to deal with a president who dragged down his support in state — the very popular Ronald Reagan. Mark Pryor wrote:
A recent Arkansas Senate debate shows how relevant that strategy remains today, for both sides. At one point, Pryor said Cotton "has his billionaires, but I have you. That's all I've ever had — the people of Arkansas." Later, Cotton said in response: "President Obama said his policies are on the ballot and they are. Here in Arkansas, they go by the name of Mark Pryor."
According to Pryor's thesis, he needs to convince the state that he's an Arkansan before he's an Obama Democrat. Based on recent polls, Pryor hasn't made that point yet.
Also on Bloomberg Politics: DNC Chairwoman Evades Questions About Obama
Before it's here, it's on the Bloomberg Terminal.
LEARN MORE