For the Christies, It Was A Very Good Year
The New Jersey governor and his wife release their joint tax returns.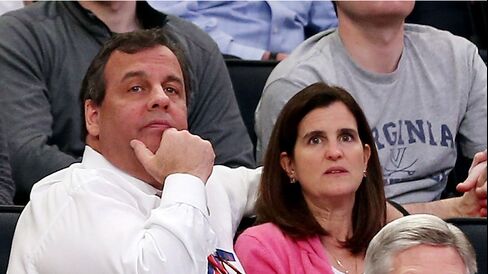 Wage gap? Not in New Jersey's first family. For almost 3 decades now, Governor Chris Christie has been outearned by his wife.
Christie, 52, a Republican, and his wife, Mary Pat, managing director at Angelo Gordon & Co., released their 2013 tax returns Friday showing they earned a joint $698,838 for the year, according to a copy posted at Christie's website. Her wages of about $475,000 accounted for most of that money. The governor's $175,000 salary is set by statute.
Kevin Roberts, a spokesman for Christie, declined to comment.
Christie, who counts Mitt Romney and Home Depot Inc. co-founder Kenneth Langone among his wealthy friends, hasn't been too concerned about the family wage gap. In fact, he quipped around tax time last year that he had "three words for you fellas: joint checking account.''
The couple paid $193,510 in federal and state taxes and claimed their four children as dependents. Their combined income was up substantially from the $478, 977 they declared in 2012.
The governor has clashed with government unions and double-dipping public servants, whom he's accused of placing their own financial interests above taxpayers with lucrative pay packages. He also has capped pay for public-school superintendents at his own level.
Before it's here, it's on the Bloomberg Terminal.
LEARN MORE