The Sitting-Duck Sitting Governors
The economy may be getting sunnier, but in many state capitols, a storm is expected in November.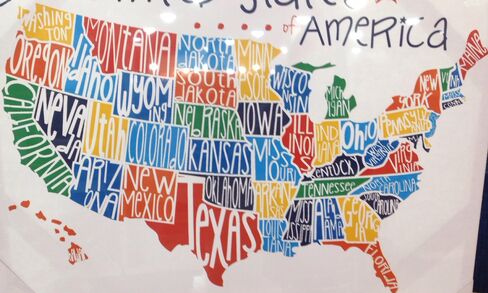 Political upheaval is on schedule to arrive the first Tuesday in November—but Washington D. C. may not be the place to look for it. While the House and Senate may well return in essentially the same shape they left (deadlocked), as many as 11 incumbent governors are locked in tight re-election races.
Also on Bloomberg Politics: TV's Most Republican and Democratic Shows
While it's true that there's a special level of loathing reserved for lawmakers in Washington—a Gallup poll earlier this year showed just 22 percent of voters thought members of Congress deserved to be re-elected—Governors around the country face the same powerful anti-incumbent currents.
This generalized throw-the-bums-out sentiment seems to be the only theme connecting the struggles faced by many governors. In fact, in many of the states where incumbents are struggling, the economies are doing quite well, as evidenced by the chart below. The top map shows the change in state economies from the past four years, while the map below it shows the previous four years. Basically green means positive growth, red means negative. The index on which the graphic is based measures tax collections, home prices, mortgage delinquency, job growth, personal income and performance of local company stocks.)
Yet 16 of the 36 governor races this year are neck-and-neck, including 11 involving incumbents, according the Cook Political Report, which tracks elections across the country. And gubernatorial contests have also tightened in Alaska, Arizona, Maryland and Minnesota in the last several weeks.
To better understand what's going on with incumbents, it's probably best to look at these races in groups.
Gone Baby Gone
No governor is more likely to lose re-election than Pennsylvania Governor Tom Corbett, who clobbered his Democratic opponent by 10 points in 2010 while contributing to the net six governorships that Republicans picked up that year. This time around it's a much different story. Contributing to Corbett's predicament: He said nothing about the Penn State scandal until four days after Jerry Sandusky was charged with sexually abusing children, oversaw unpopular budget cuts to schools, and battled with his own party over the state's pension liability.
Corbett was trailing 59 percent to 35 percent in a Quinnipiac poll last month to Democrat Tom Wolf. Who's Tom Wolf? Who cares, voters say. Fifty-one percent of Wolf backers told Quinnipiac that they're mainly voting against the incumbent.
The Party's Over
The biggest group of endangered governors are the Republicans who won in 2010 thanks in large part to the Tea Party wave. That includes four who took seats that had been held by Democrats: Kansas's Sam Brownback, Maine's Paul LePage, Michigan's Rick Snyder and Wisconsin's Scott Walker. The wave pushed a fifth, Rick Scott of Florida, just over the finish line in one of the closest races that year.
Of the five, Scott and LePage look to be most at risk of losing their jobs Their foibles — LePage joking about bombing local newspapers, Scott alienating just about anyone he tries to befriend — may be a bit much even for two decidedly strange states.
Scott, who won by just 1.2 percentage points in 2010, remains an enigma. Tom Slade, the former co-chairman of Scott's campaign and ex-chairman of the Florida Republican Party, summed it up best for us in a 2012 quote that still holds up: "I'd give him a B for governing. I'd give him an A for strangeness."
In Kansas, even Republicans have turned on Brownback as the promised benefits of the personal and corporate income-tax cuts he pushed have failed to materialize. Still, Kansas is as Republican as it gets and the political inversion has pollsters stumped. In different surveys last week, Brownback was up 6 points in one, down five points in another and tied in a third.
This is Walker's third election in four years. He's won the first two and if he pulls this one off, it would reinvigorate chatter that dimmed this summer about his prospects for a White House run in 2016. The pollsters at Marquette University, who nailed the call in his 2012 recall election, put Walker ahead by 5 percentage points in their Oct. 1 survey.
Snyder looked like he was in real trouble last month as retirees (read: voters) were upset about his push to tax pensions and a handful of polls showed his re-election race within the margins. Things may be cooling a bit there as a Detroit News poll this month showed Snyder up by 8 points.
Purple Haze
Colorado has long been a purple state when it comes to governor's races, and John Hickenlooper was looking at an easy re-election as his poll ratings showed him among the nation's most popular governors. But as the former brewpub owner harshes the state's mellow on legal marijuana, controversies — including a showdown he lost over gun control — may be catching up to him. Coloradans haven't unseated a governor in 52 years, according to the Denver Post. A USA Today poll last month showed Hickenlooper ahead, but within the margin of error.
Illinois Trend
An Illinois governor hasn't served two full terms since Jim Edgar in the 1990s. Democrat Pat Quinn is testing that trend, down double digits in August in a Sun Times poll as the state has been crushed by pension debt, earned the lowest credit rating in the U.S. and put together a budget that will run dry next year.
But Quinn is nothing if not an excellent campaigner. The latest Sun Times poll shows the incumbent up by 4 points.
The Third Way
Whether its a Libertarian candidate for governor pulling 13 percent of the vote in Florida or an independent Senate candidate giving longtime incumbent Pat Roberts a run for his money in Kansas, there is a sense that voters are increasingly looking for an option outside of the two main parties.
That's playing out in Alaska, where the Democratic and independent candidates have teamed up (with independent Bill Walker on the top of the ticket) to take on incumbent Republican Sean Parnell. The Cook Political Report shifted its rating on this race on Friday, showing that Parnell's victory isn't quite so assured.
Head-Scratchers
You wouldn't think a Republican incumbent in Georgia and a sitting Democrat in Connecticut would have trouble getting re-elected. But here we are in October and the Republican Governor's Association is propping up Georgia's Nathan Deal, who's been hurt by multiple allegations that his office interfered with state's ethics commission investigations. Polls show him with a slight lead.
In Connecticut, Dannel Malloy is facing a rematch from Republican Tom Foley, who came within one point of winning in 2010. The two are neck-and-neck again as Malloy has been blamed for increasing taxes, a continuing budget shortfall and a fractious relationship with teachers unions that he's struggled to repair.
With assistance from Tim Jones in Chicago.
Before it's here, it's on the Bloomberg Terminal.
LEARN MORE