Bloomberg/DMR Iowa Poll: Senate Candidates Just a Point Apart
Bruce Braley and Joni Ernst are in a dead heat as they both call in surrogates to boost their candidacies.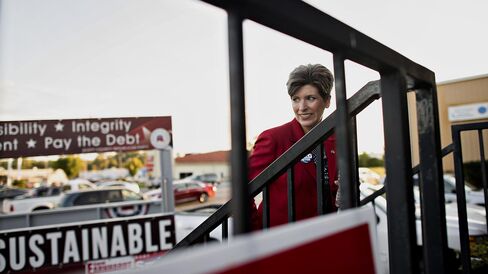 Bruce Braley should get Bill Clinton on an airplane to Iowa as quickly as possible.
His race against Republican Joni Ernst, which could determine control of the U.S. Senate, is all but tied — and the former president outshines all other Democrats tested as someone viewed as a helpful supporter, according to a Bloomberg Politics/Des Moines Register Iowa Poll.
Ernst is backed by 47 percent of likely voters compared with 46 percent support for Braley. Just 4 percent remain undecided as the two candidates prepare to face off in their second of three debates Saturday evening. The independent and libertarian candidates on the ballot could also play a role on Nov. 4, with 3 percent saying they'll support someone other than Ernst or Braley.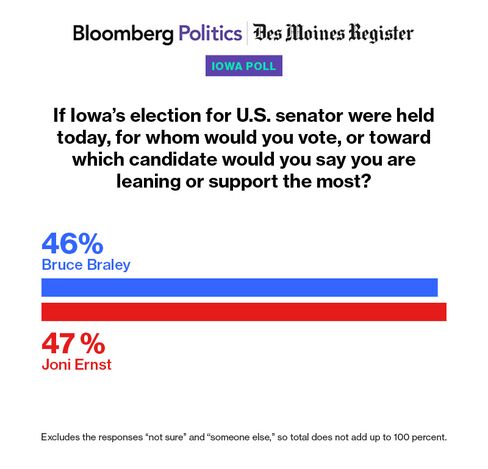 The race is tighter than when the last Iowa Poll was taken in late September. Then, Ernst led by 6 percentage points and seemed to be gaining momentum.
"He's up 8 points over the last couple of weeks and Joni Ernst is up only 3 points," said J. Ann Selzer, president of West Des Moines-based Selzer & Co., which conducted the poll for Bloomberg and the Register. "There is still enough fluidity for this race to move either way."
The survey of 1,000 likely voters was taken Oct. 3-8 and has a margin of error of plus or minus 3.1 percentage points.
Also on Bloomberg Politics: Bloomberg/DMR Iowa Poll: Republicans Within Striking Distance of Clinton
Among independent voters, Iowa's largest voting bloc, Ernst and Braley are also separated by just a point. Since those are the voters who will determine the election, Ernst and Braley are working to paint each other as extremists. It may be working.
"She frightens me," said Kim Bradwell, a finance analyst from suburban Des Moines who considers herself an independent voter and plans to vote for Braley. "She's just too far out there for me."
Independent voter Allen Bergman said it's been a "tough call" trying to pick between the two. "Based on Braley's voting record, he seems to be too much in the spending category for me," said Bergman, who runs a small truck company and lives in Waukee, Iowa. "I like her military background and leadership as a commander. I think that speaks pretty highly of her, that she has served combat duty."
Both national parties and outside groups are pouring millions into the race. The Des Moines television market, the state's largest, has been one of the busiest nationally with campaign advertising in recent weeks. Some of America's top political names are also flocking to the state. First lady Michelle Obama appeared with Braley Friday in Des Moines. On Sunday and Monday, 2012 Republican presidential nominee Mitt Romney will campaign with Ernst.
Bill Clinton is the biggest dog as a campaign surrogate and supporter, the poll shows. Among voters of all political stripes, 65 percent think having him as a backer helps Braley. Even Republicans routinely praise Clinton's abilities.
"I have never seen any person in politics, outside of Ronald Reagan, that has that ability to communicate with a crowd," Republican Senator John McCain said of Clinton this week on Bloomberg Politics' "With All Due Respect" television show.
Bill Clinton's helpfulness rating is higher than Senator Tom Harkin, the longtime holder of the seat Braley seeks. Harkin is viewed as helpful by 60 percent of likely voters. Hillary Clinton, who is expected to campaign with Braley, is viewed as helpful by 52 percent. Iowa's likely voters don't think President Barack Obama's support would be helpful to Braley, with just more than a third of holding that view.
Republicans should try to keep former Alaska Governor Sarah Palin out of the state, since 56 percent say her support does more to hurt than help Ernst. Iowa's Republican governor, Terry Branstad, who appears to be cruising to re-election and has a 60 percent approval rating, is viewed as an asset to Ernst by 67 percent and Republican Senator Chuck Grassley, with a 65 percent approval rating, is viewed as helpful to her by 69 percent.
The majority of voters say they know at least a little about who the Koch brothers are and half say their involvement in the race through organizations tied to them hurts Ernst.
Among the 15 percent of likely voters who have already cast ballots — early voting started Sept. 25 in Iowa — 41 percent say they're Democrats, 27 percent say they're Republicans and 28 percent say they're independents. That Democratic tilt gives Braley a lead among those who have already voted, 56 percent to 38 percent.
Each candidate has roughly equal proportions of supporters who say they're locked in. Both also have roughly equal favorable and unfavorable ratings, in the mid-40s. Among men, Ernst beats Braley, 54 percent to 38 percent. Braley has the advantage among women, 53 percent to 39 percent.
In the state's 1st Congressional District that Braley has represented since 2007, he barely edges out Ernst, 46 percent to 45 percent. He's also winning among city dwellers (53 percent to 39 percent) and among those with household incomes below $30,000 (55 percent to 36 percent).
Ernst is winning among those younger than 35 (50 percent to 39 percent), born-again Christians and evangelicals (64 percent to 29 percent) and in rural areas (57 percent to 36 percent).
Reflecting Iowa's independent political nature, 53 percent of likely voters say the state has benefited from having a U.S. senator from each political party. Grassley was first elected to the Senate in 1980 and Harkin followed in 1984.
"They are such iconic guys on the opposite end of the spectrum," said Jason Walke, a "right-leaning" independent voter from West Des Moines. "It's like having a Kennedy and a Bush from the same state."
Also on Bloomberg Politics: Mark Halperin and John Heilemann on the Bloomberg/Des Moines Register Iowa Poll
Before it's here, it's on the Bloomberg Terminal.
LEARN MORE