It's a simple idea to make a positive difference: when someone buys a pair of their shoes, the for-profit company TOMS gives one to an impoverished child. But whether the program actually helps those kids has real implications as aid organizations gauge the usefulness of in-kind donation programs – those that give goods and services rather than cash.
World Bank researchers take a hard look at how TOMS were received among El Salvadorian children in new research, and theirs is the top study in this week's economic research wrap. We've also got an analysis of what large-scale asset purchases work and a take on refugee crisis costs.
Check out this roundup every week for blurbs on, and links to, interesting or influential global economic research.
Economists teach us about TOMS
Do programs that distribute shoes to children whose families can't afford them actually improve recipients' lives?
First off, kids definitely used the charity shoes, if the focus group of about 1,600 children in El Salvador who received a pair from Los Angeles-based TOMS is any indication. For boys, there was even a small positive impact on school attendance.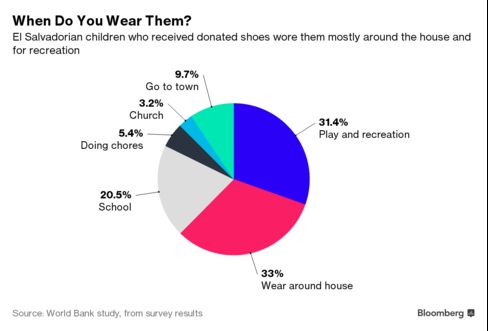 It isn't a totally sunny picture, though. Children who got shoes were more likely to say that outsiders should provide for the needs of their family, and may have just been wearing the shoes as substitutes for older pairs. The takeaway: "In a context where most children already own at least one pair of shoes, the overall impact of the shoe donation program appears to be negligible, illustrating the importance of more careful targeting of in-kind donation programs."

Shoeing the children: the impact of the TOMS Shoe donation program in rural El Salvador
Released: September 2016
Available: on the World Bank website
Read this before the Fed and BOJ meetings
Not all unconventional easing is made equal. If central banks support debt origination that wouldn't have otherwise happened, it has a big effect, based on a National Bureau of Economic Research paper.

For example, during the Federal Reserve's first quantitative easing program, buying mortgage-backed securities – rather than just Treasuries – boosted refinancing by an additional $600 billion, cut interest payments for refinancing households and increased refinancing mortgagors' consumption by an additional $76 billion. If government-sponsored enterprises' mortgage eligibility had been relaxed, it would have had an even bigger impact.

The relevance? The Bank of Japan could tweak its asset purchase program at a meeting on Wednesday, and Fed officials are considering what they have in the extraordinary-action toolbox ahead of the next recession. Knowing what works helps.

How Quantitative Easing Works: Evidence on the Refinancing Channel
Released: September 2016
Available: on the NBER website
Heard of Aleppo? Here's how much MENA conflict costs
The refugee crisis in the Middle East and North Africa is taking a heavy economic toll on the region and its neighbors, the International Monetary Fund finds.
Strife has existed in the area referred to as MENA for decades, but now non-state political and military groups including ISIS have gotten into the mix. Conflict escalation has met with output slumps, and 2015 GDP in Syria was less than half of its 2010 level. Yemen lost 25 percent to 35 percent of its output just last year. There are also spillovers to neighboring nations: the 1.7 million refugees who have reached Europe since July 2014 "are already undermining important achievements in the European project," such as the free movement of people across borders.
The Economic Impact of Conflicts and the Refugee Crisis in the Middle East and North Africa
Released September 2016
Available: on the IMF website
Inequality is a black and white issue, research shows
Wage gaps between black and white Americans are larger today than they were in 1979, but there's no single factor driving the change. Gender, education, age and experience levels all play a role. The divide has widened more among women but is still larger among men, and black college graduates have a larger disadvantage relative to white college graduates than in 1980. The fact that there's no clear cause for the growing racial wealth gap suggests that discrimination could be at play, researchers at the pro-worker Economic Policy Institute write. And that's one reason why these findings matter.
Black-White Wage Gaps Expand With Rising Wage Inequality
Released: Sept. 20, 2016
Available: Economic Policy Institute website

Before it's here, it's on the Bloomberg Terminal.
LEARN MORE