Defense Trade Unravels as Bond Yields Jump Most in Month: Chart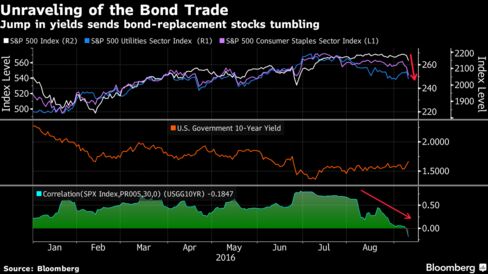 One of the most popular equity trades of the year is breaking down Friday as utility stocks and consumer staples shares tumbled as much as 2.3 percent while the yield on the 10-year Treasury note jumped. Thirty-day correlation between moves in the bond yield and the S&P 500 Index turned negative this month, meaning equity and Treasury prices are moving in the same direction. Attracted by high dividend payouts, investors have piled money into so-called defensive stocks this year as bond yields plunged.
Before it's here, it's on the Bloomberg Terminal.
LEARN MORE