Nigeria Finally Sees Some Relief From Oil Disruption: Chart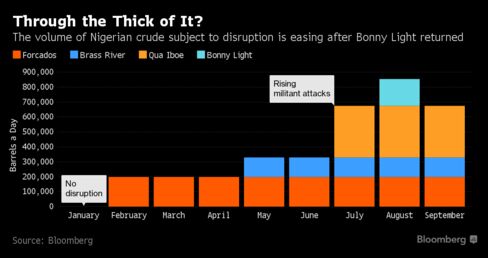 Nigeria may be through the worst of the disruptions from militant attacks and other incidents that affected almost half its oil production last month. The volume of crude supplies subject to force majeure -- a legal clause that allows companies to halt shipments without breaching contracts -- is diminishing after reaching almost 900,000 barrels a day last month. Royal Dutch Shell Plc lifted the force majeure on Bonny Light crude on Sept. 6 and the Forcados grade is expected to follow by the middle of the month.
Before it's here, it's on the Bloomberg Terminal.
LEARN MORE