Primary dealers see 10-year yield at -0.15 percent by year-end

BOJ must ease this month to ignite inflation expectations: UBS
Japan's primary dealers are saying the worst bond rout since 2013 is a buying opportunity as benchmark sovereign yields will stay negative into 2017.
Ten-year yields will finish the year at minus 0.15 percent and remain there to the end of March, from minus 0.065 percent at 10 a.m. on Thursday in Tokyo, according to the median estimate in a Bloomberg survey of 13 of the brokerages, who are obligated to participate in debt auctions. The most bullish forecasts come from UBS Securities Japan Co. and Tokai Tokyo Securities Co. They both see a return to July's record low of minus 0.3 percent at year-end.
QuickTake Negative Interest Rates
The benchmark yield rose to just one basis point shy of zero this week amid speculation the Bank of Japan will adjust its bond purchase program to encourage higher long-term interest rates that are favored by lenders. By contrast, most primary dealers aren't convinced that Governor Haruhiko Kuroda will reduce monetary stimulus at the Sept. 20-21 meeting, and the yen has weakened against 12 of 16 major currencies since the end of July.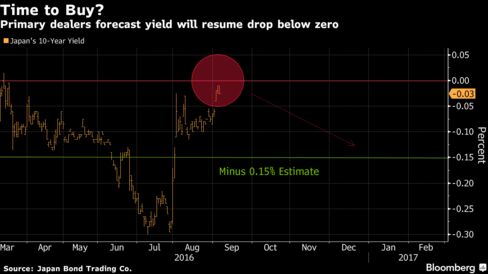 "If the BOJ doesn't ease in September, it invites the great uncertainty of a stronger yen," said Daiju Aoki, an economist at UBS in Tokyo, who predicts a deepening of the negative deposit rate this month. "It's important that they don't bring up debate about the limits of quantitative easing, and make a commitment to stimulus that will spur inflation expectations."
Five respondents predict an imminent expansion of stimulus, with three others postulating action by year-end.
No Tightening
Kuroda pledged this week there would be no reduction in monetary stimulus as a result of the central bank's comprehensive policy review, and reiterated there is ample room to expand every aspect of the current framework.
Japan has a total of 21 primary dealers, which the central bank calls "Special Participants," who are required to bid at government auctions and make a market for the debt. They have been forced to adapt to low liquidity and increased volatility as the central bank cornered an unprecedented one-third of outstanding bonds, topping any other class of investor.
The dealers will meet with Ministry of Finance officials Thursday, after saying at a similar gathering in June that some clients were worried all yields would turn negative. About seven of every 10 bonds currently yield less than zero.
Primary dealers' forecasts are actually less bullish than those of the broader analyst community, which has a consensus call for yields to decline to minus 0.2 percent at year end, according to estimates compiled by Bloomberg.
Twenty-Year Debt
The dealers estimate 20-year JGB yields will drop to 0.23 percent by year-end and stay there until at least the end of March, from 0.345 percent currently. The yield dipped to a record minus 0.005 percent in July. Twenty-year debt had become a bastion for Japanese investors trying to balance desires for yield and liquidity.
Tokai Tokyo and Okasan Securities Co. are among dealers recommending 20-year bonds. Meanwhile, JPMorgan Securities Japan Co. says 10-year notes are attractive, and BNP Paribas Securities (Japan) Ltd. says the risk of benchmark yields rising further "has receded a lot."
An investor would earn about 3 percent if the 10-year JGB yield ended the year at minus 0.15 percent, after accounting for reinvested interest, according to data compiled by Bloomberg.
JGBs have lost 1.2 percent from the end of July, the most among 26 sovereign debt markets tracked by Bloomberg. The benchmark note suffered its worst month in August since December of 2013.
"The BOJ hasn't wavered in its judgment that quantitative-and-qualitative easing with a negative interest rate has reduced real yields," said Naomi Muguruma, a Tokyo-based senior market economist at Mitsubishi UFJ Morgan Stanley Securities Co., another primary dealer. "We'll return to stable, low levels for yields amid extreme supply-and-demand conditions in the market."
| Primary Dealer | 10-Year Yield at Year-End | 10-Year Yield at End-March | 20-Year Yield at Year-End | 20-Year Yield at End-March |
| --- | --- | --- | --- | --- |
| Barclays Securities Japan | -0.1% | -0.05% | 0.3% | 0.3% |
| BNP Paribas Securities | -0.05% | -0.05% | 0.35% | 0.35% |
| Daiwa Securities | -0.1% | -0.1% | 0.3% | 0.3% |
| Deutsche Securities | -0.1% | -0.1% | 0.3% | 0.3% |
| JPMorgan Securities Japan | -0.2% | -0.2% | 0.2% | 0.25% |
| Merrill Lynch Japan Securities | -0.15% | -0.17% | 0.18% | 0.13% |
| Mitsubishi UFJ Morgan Stanley Securities | -0.15% | -0.15% | 0.25% | 0.25% |
| Mizuho Securities | -0.15% | -0.15% | 0.15% | 0.15% |
| Okasan Securities | -0.25% | -0.25% | 0.15% | 0.15% |
| SMBC Nikko Securities | -0.05% | -0.15% | 0.3% | 0.2% |
| Sumitomo Mitsui Banking Corp. | -0.1% | -0.1% | 0.1% | 0.1% |
| Tokai Tokyo Securities | -0.3% | -0.25% | 0.05% | 0.1% |
| UBS Securities Japan | -0.3% | -0.25% | N/A | N/A |
Before it's here, it's on the Bloomberg Terminal.
LEARN MORE