Turkey vows to pull out unless EU grants October concessions

EU leaders seen backing away from pledge on travel controls
The foundations of Turkey's agreement with the European Union to curb the flow of migrants into Greece are looking increasingly shaky.
With Turkey battling Islamic State and Kurdish militants both at home and in neighboring Syria, President Recep Tayyip Erdogan insists he won't scale back the anti-terrorism legislation that European leaders say undermines democratic standards. Even if he did, the EU may no longer be willing to make good on a promise to award visa-free travel to Turkey in return, according to Ian Lesser, senior director for foreign policy at the German Marshall Fund of the United States. Turkey has pledged to end the pact unless the EU delivers in October.
"Visa liberalization for Turkey in the current circumstances is going to be a very tough sell in the EU," Lesser said in an interview in Brussels. "It's an explosive issue politically in Europe. I am very skeptical about the prospects for the refugee agreement."
QuickTake Europe's Refugee Crisis
Erdogan's response to a failed coup in July, worries in Europe about Mideast terrorism and EU jitters over immigration after the Brexit vote in June have altered the political calculus since European leaders sealed their pact with Turkey in March. Throw in evidence that refugee flows across the Aegean Sea into Greece were dropping before the migrant accord and European governments may see fewer risks in snubbing Erdogan than in keeping their word to him.
While big declines in refugee numbers followed the Turkey pact, EU governments had already closed transit routes north from Greece months earlier by reintroducing internal border checks -- acts that also deterred would-be migrants. The EU aims to lift those controls by the end of the year, but the checks could be extended until mid-2018 if the bloc opted to reduce its reliance on Turkey.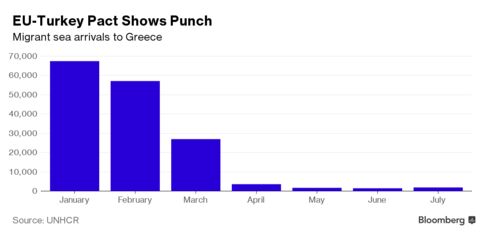 Turkey launched its biggest military operation in Syria on Aug. 24, aiming to force Islamic State militants away from its border and deter further advances by Syrian Kurds allied with Turkish separatists. On the domestic front, Erdogan has declared a three-month state of emergency since the coup, jailed more than 20,000 suspects and removed almost 80,000 people from public duty since the deadly July 15 putsch was put down.
For a QuickTake explainer on Europe's refugee crisis, click here
In response to the crackdown, the EU toughened its rhetoric on Turkey's membership prospects and the U.S. questioned the country's longstanding role in the North Atlantic Treaty Organization.
"We're continuing on our way, defeating the ploys of all those who think they can cut us off with coups, terrorism, economic attacks, diplomatic games and political maneuvers," Erdogan said Aug. 24.
So far, EU governments have continued to stress the benefits of working with Turkey on migration.
"I am convinced that the cooperation with Turkey in refugee matters is right," German Chancellor Angela Merkel said Aug. 22. "Otherwise, we can't win the battle against the smugglers."
Problems Forecast
EU leaders turned to Turkey for help after almost a million people streamed into Greece last year. Heading north through the Balkans in a bid to reach Germany, the columns of migrants stirred the fears of locals, opened up divisions among EU nations and fueled a populist backlash against establishment parties.
The influx turned into a trickle after Turkey agreed to accept the return of people who had entered Greece illegally (and the EU said it would allow Syrian refugees in Turkish camps to resettle in Europe). In return, Erdogan was promised hassle-free travel to Europe, 6 billion euros ($6.8 billion) in migrant aid and faster progress in membership talks that began in 2005.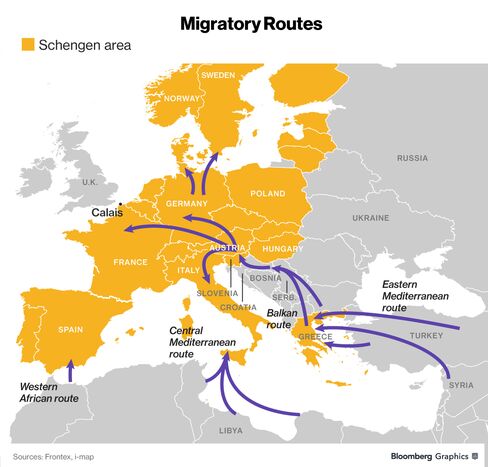 Even at the time, Merkel was predicting "further setbacks'' in the cooperation with Erdogan. Five months later, it's visa liberalization that's the sticking point. The anti-terror law is the main EU condition that remains unfulfilled, but even if Erdogan did back down on that, the politics are tricky.
"Developments in Turkey since the attempted coup and the reaction of Erdogan in particular make it very difficult to grant visa liberalization," said Hrant Kostanyan, a researcher at the Centre for European Policy Studies in Brussels. "The politics matter. In the case of Turkey, there are a lot of complications."
Serial Arguments
This week, Turkey recalled its ambassador in Vienna after Austrian authorities permitted a rally in support of Kurdish separatists. Last week, it was Sweden riling the Turks when Foreign Minister Margot Wallstroem criticized changes to their laws on child sex abuse. At the start of August, Erdogan got into a public spat with Italian Prime Minister Matteo Renzi.
On Friday, the Turkish minister for EU affairs, Omer Celik, attacked European Enlargement Commissioner Johannes Hahn's treatment of Turkey, saying he'd neglected the relationship since the coup attempt and demanding Hahn treat the country with "European values" and leave aside "personal prejudices."
Despite the noise, Turkey may be loath to pick another battle and end up backtracking on the threat to pull out of the refugee accord even if it is denied visa-free status. Turkish authorities are already trying to protect the economy from investor flight following the foiled coup on top of the hostilities with Islamic State and Kurdish groups.
For now, European Commission President Jean-Claude Juncker is sticking to the EU script. Turkey can win visa-free travel to the bloc "if all the conditions are fulfilled," he said Aug. 21. The following day, the commission sent a team of experts to Ankara to continue work on the remaining benchmarks.
Amanda Paul, an analyst at the European Policy Centre in Brussels, said she believes Erdogan will spare EU governments their dilemma.
"I don't think Turkey will meet the conditions," she said. "Turkey isn't going to adjust its anti-terror law at this point in time because of the security situation in the country."
Before it's here, it's on the Bloomberg Terminal.
LEARN MORE