Harvard Names Head of $3.6 Billion Natural Resources Group
Endowment searched for director after departures in group

Butterfield was CEO of Brazilian farmland investor Radar
Harvard Management Co. named Colin Butterfield as head of natural resources at the university's $37.6 billion endowment following a series of departures in the group last year under the former chief executive officer.
Butterfield, 43, was most recently CEO of Radar SA, a $2.2 billion Brazilian farmland investment management joint venture between retirement money manager TIAA and Cosan SA, HMC said in a statement Thursday. Butterfield will join HMC in early October.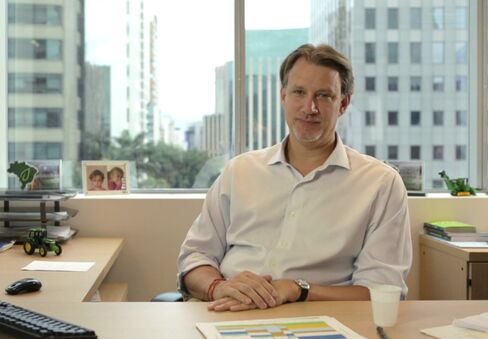 The endowment is in transition after CEO Stephen Blyth resigned for personal reasons last month after taking a medical leave in May. Robert Ettl, the fund's chief operating officer, is the interim CEO while HMC searches for a replacement. HMC said in June it would dismantle the in-house public equities team, just two years after it began building a group that specialized in publicly-traded stocks in the U.S. and other developed markets.
Refine Strategy
The endowment has a $3.6 billion natural resources portfolio that is about 9 percent of the portfolio as of August, according to the university's website. The portfolio includes timberland in Brazil and other developing countries, according to university reports. The natural resources and commodities portfolio returned 3.5 percent in the year ended June 30, 2015, which Blyth last year called "generally subdued."
"Natural resources investments have been a long-time contributor to the overall endowment portfolio and we will look to Colin to refine our strategy and to bring the best opportunities at scale to our portfolio," Rene Canezin, head of public markets at the endowment, said in the statement.
The team that formerly oversaw the natural resources portfolio has been raising money for a new fund to invest in timberland and agriculture. Andrew Wiltshire, Harvard's former head of alternative assets, joined with Oliver Grantham and Alvaro Aguirre to start Folium Capital in Boston.
Before it's here, it's on the Bloomberg Terminal.
LEARN MORE