End of the Affair as Chinese Commodity Traders Exit Market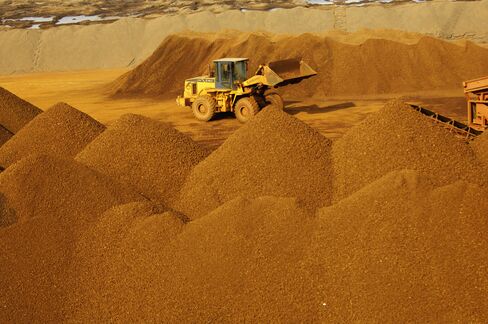 Combined commodities trading volumes decline to six-month low

Economic concern seen keeping investors away from materials
Chinese traders are falling out of love with commodities.
Aggregate volumes across the nation's three biggest exchanges have shrunk to the lowest level in six months, a shadow of the fevered trading in March and April when retail investors charged into markets for everything from iron ore to cotton, driving up prices and stoking fears of a bubble. Chinese authorities brought an end to the frenzy by introducing curbs on excessive speculation and trading has failed to recover since.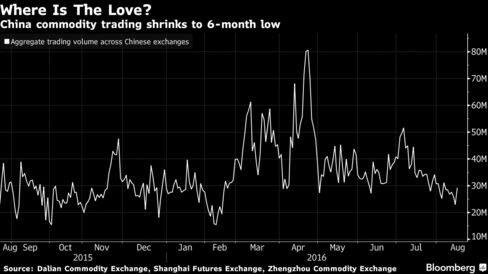 Flush with record credit and hunting for returns, investors piled into commodities in the first half of the year, spurred by bets that China's economic stimulus and industrial reforms would lead to shortages of raw materials. Now, there's just not much for traders to get excited about, according to Wei Lai, an analyst with Cofco Futures. Industrial production and fixed-asset investment slowed in July and a measure of new credit expanded the least in two years, spurring concern over growth in the world's second-largest economy.
"Investors are reluctant as there isn't much information to play around with in the market,"' Shanghai-based Wei said in an e-mail. High prices for some commodities may also be deterring traders, Wei said.
Combined aggregate volume across the Shanghai Futures Exchange, Dalian Commodity Exchange and Zhengzhou Commodity Exchange slid to 23 million contracts as of Aug. 12, the lowest since February and compared with a peak of more than 80 million on April 22 when a total of $261 billion changed hands. More than 29 million contracts traded on Monday. Chinese exchanges double count trading volume and turnover.
For a chronicle of China's commodities trading frenzy, click here
Commodities prices rebounded this year from a collapse in late 2015 amid signs of a pickup in demand in China, with zinc, steel rebar and animal feeds such as soybean meal among the biggest gainers.
"Fewer industry participants are trading commodities futures in China," Xu Yongqi, a senior analyst with CCB Futures Co. in Shanghai, said via e-mail. "Traditional futures players in China aren't accustomed to rising volatility following more trading by hedge funds and other investors, while economic uncertainties in China and unclear credit policies also pushed some traders away from the market."
China's recent economic stabilization has faltered with factory output, retail sales and investment all slowing, data showed on Friday. Expansion in aggregate financing was at a two-year low, growth in new yuan loans was the weakest since July 2014 while the broad M2 money supply rose the least since April 2015. Policy makers are facing a choice of whether to boost demand with cheap credit that risks undermining financial stability, or curb debt expansion even if that slows the economy.
Before it's here, it's on the Bloomberg Terminal.
LEARN MORE