Gulf Arab Stock Markets Rise After Crude's Best Week Since April
Bloomberg GCC 200 Index climbs to highest level in three weeks

Egyptian stocks retreat after 2-day rally on IMF loan
Stock markets in Dubai and Qatar led an advance across most Gulf equities after oil, the region's main source of income, posted the best week since April.
Dubai's DFM General Index advanced 1.2 percent, the biggest gain in almost a month, as Qatar's QE Index added 0.9 percent. Bloomberg's GCC 200 Index, a measure of the largest and most liquid companies in the six-nation Gulf Cooperation Council, rose to the highest level in three weeks.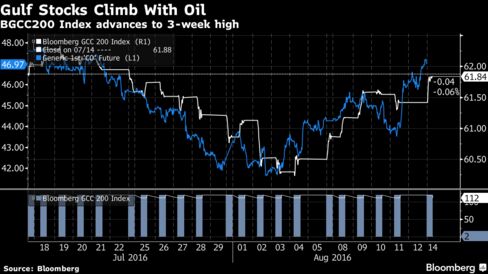 "The oil rally at the end of last week, coupled with global markets printing new highs, is boosting market sentiment," said Hisham Khairy, the Dubai-based head of institutional trade at Mena Corp. Financial Services LLC, one of the United Arab Emirates' largest brokerages. "The market is showing signs of strength and should continue if things globally remain stable."
The GCC is home to about 30 percent of the world's proven crude reserves and governments depend on energy income for the bulk of spending. Brent crude climbed 6.1 percent last week to $46.97 a barrel on Friday. Meanwhile, all three U.S. stock benchmarks rose together to record highs for the first time in 16 years and European shares erased the slump that followed Britain's secession vote.
The BGCC200 Index climbed 0.7 percent and Oman's MSM 30 Index increased 0.2 percent. Kuwait's SE Price Index and Abu Dhabi's ADX General Index were little changed. Bahrain's BB All Share Index rose 0.1 percent.
Saudi Rules
Saudi Arabia's Tadawul All Share Index added 0.8 percent, the first gain in three days. The kingdom is seeking to diversify away from crude following a more than 50 percent decline in oil prices in the past two years. The stock market will implement new rules for qualified foreign investors next month.
"The main driver for stocks going up today is the increase in oil prices over the weekend," said Muhammad Faisal Potrik, the Riyadh-based head of research at Riyad Capital. "The news from last week on new QFI rules being enforced next month, sooner than the scheduled date, which was early next year, also gave some positive momentum. It might facilitate MSCI inclusion sooner than expected as well."
The new regulations will ease investor access to the kingdom's equities, including by cutting the amount of assets foreigners must have under management to invest directly to 3.75 billion riyals ($1 billion) from 18.75 billion riyals.
Egyptian Retreat
Egypt's EGX 30 Index dropped for the first time in three days. While the decline on Sunday trims the gauge's advance this quarter to 20 percent, it's still the best performer out of about 90 indexes tracked by Bloomberg.
The most populous Arab nation is moving closer to securing $12 billion of International Monetary Fund support designed to lure foreign investors and ease a dollar shortage that has hampered economic growth. Egypt will work with the fund to secure additional financing to plug gaps in the government's economic program, Egypt's deputy finance minister said on Saturday.
"People are taking profits after the IMF deal" was agreed, said Sherif Shebl, an equities trader at Cairo-based Pharos Holding for Financial Investments. "The market is now waiting to see how currency devaluation will take place, as well as the rest of the required restructuring. There's a certain amount of implementation risk that comes with this deal."
The EGX 30's trading volume was about 25 percent above its average over the past six months. Commercial International Bank, the nation's biggest publicly traded company, declined 1.1 percent.
Markets in Israel were closed for a public holiday.
Before it's here, it's on the Bloomberg Terminal.
LEARN MORE