Brexit Bulletin: U.K. Home Sales Slump Most Since 2008
Although some see slump as short-lived
Sign up to receive the Brexit Bulletin in your inbox.
Brexit is hitting the housing market. Sales dropped the most since the financial crisis in 2008, according to data from the Royal Institution of Chartered Surveyors. Prices rose at the slowest pace in three years in July and new listings declined. The data sent shares in homebuilders including Taylor Wimpey lower.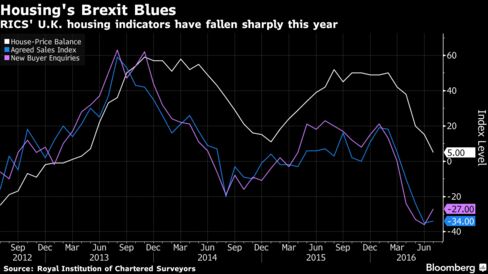 Rents are also set to cool, according to Derwent London, a real-estate investment trust that develops offices. Rents will rise just 1 percent to 5 percent this year, instead of their previous forecast of 5 percent to 8 percent, and the company may delay the development of the Brunel Building in Paddington if demand for office space gets worse.

Still, Singapore-based City Developments Ltd., whose billionaire Chairman Kwek Leng Beng said last month he'd buy more London property if there were bargains, sees signs the market is already stabilizing. Brexit may be an opportunity to invest, the company said today.





Not Just Brits
Immigration in the U.K. was a major factor in the Brexit vote, with the "Leave" campaign promising to take back control of the country's borders. A new study by Ipsos Mori shows a negative view of immigration is shared by 45 percent of people in 22 nations.
Just 20 percent said immigration was positive, according to the survey of more than 16,000 people, Bloomberg's Alex Morales writes. In Turkey, Italy, Russia, Hungary, France and Belgium, the proportion with negative views was more than six in 10. Almost half of the people surveyed worldwide—from countries including the U.S., France and Saudi Arabia—said there are too many immigrants in their country, Ipsos said.
On the Markets
U.K. stocks fell for the first time in six days after the housing report. European stocks rebounded and oil trimmed losses. Futures on the S&P 500 and Dow Jones Industrial Average advanced in European trading.



U.K. bonds meanwhile are getting a boost from the Bank of England's Brexit response. Gilts have returned almost three times as much as their closest peers since the vote to leave, with yields falling to all-time lows this week on signs the central bank may need to pay higher prices in order to buy enough gilts to meet its quantitative-easing target.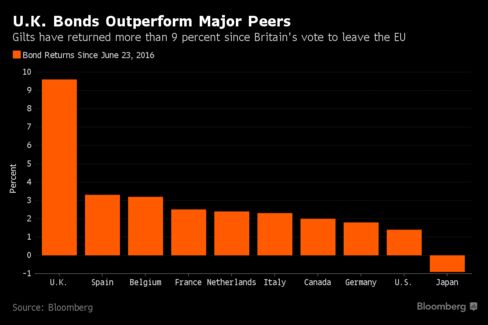 And Finally...
Prime Minister Theresa May is off on vacation. Her destination? Non-EU member Switzerland, whose relationship with the bloc is sometimes cited as a model for the U.K. post-Brexit. Switzerland is also famous for its mountains, and May is a keen hiker.
For more on Brexit follow Bloomberg on Twitter, Facebook and Instagram, and see our full coverage at Bloomberg.com
Before it's here, it's on the Bloomberg Terminal.
LEARN MORE