U.K. Yields Climb From Record as BOE Bombarded With Sales Offers
BOE received offers for 4.71 times amount it planned to buy

Gilt yields are likely to stay low: Old Mutual's Nash
U.K. government bonds yields climbed from record lows as the Bank of England's expanded quantitative-easing plan got back on track.
The BOE said it received sales offers for 4.71 times the debt it planned to buy at an operation Wednesday, in contrast to the previous day, when it failed to find enough sellers of longer-dated gilts. The central bank said Wednesday that the bonds it couldn't buy at that operation would be acquired sometime during the second half of the six-month QE program.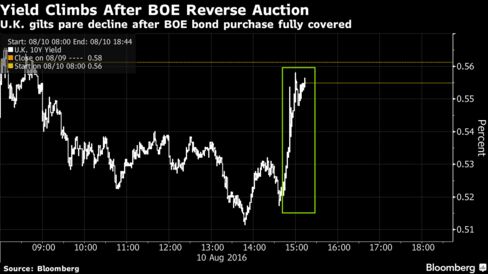 "From today's well-covered results and given it's summer markets, it's too early to read much into yesterday's uncovered affair in long bonds," said Mark Nash, head of global bonds at Old Mutual Asset Managers Plc in London. "Until we get any sign that the economy isn't in as poor state as priced by the market, it's hard to fade gilts move. It doesn't seem like there is anything that can change that in the near term."
Benchmark 10-year gilt yields dropped four basis points, or 0.04 percentage point, to 0.54 percent as of 4:25 p.m. London time, after earlier falling to a record 0.512 percent. The 2 percent bond due in September 2025 rose 0.41, or 4.10 pounds per 1,000-pound face amount, to 112.925.
Record Low
The nation's 30-year yield declined 12 points to 1.27 percent, having risen to 1.30 percent right after Wednesday's auction. Earlier they sank to a record-low 1.26 percent. The BOE will publish details of next week's operations on Thursday.
This was the third consecutive gilt-purchase operation, focusing on the seven- to 15-year section of the market. The revived QE purchases are part of the new stimulus measures introduced on Aug. 4 to contain economic fallout from Britain's decision to leave to European Union in June. The Brexit defense also included corporate-bond purchases and the first interest-rate cut in more than seven years.
"It remains to be seen if yesterday's failure will turn out to be just a 'summer one-off,' or if the implementation of gilt QE will indeed turn out to be much more difficult than anticipated," said David Schnautz, a fixed-income strategist at Commerzbank AG in London. "The BOE will only recalibrate amid further signs of problems. They won't jump the gun after just one hiccup. That's why long-dated bond yields are falling."
The BOE said it will deal with a 52 million-pound shortfall ($60.8 million) in an operation on Tuesday at a later date as it made no changes to its expanded 60 billion-pound quantitative-easing program. Details of these purchases will be announced when the institution publishes information on the second half of the plan on Nov. 3.
Pimco's View
"If they were reasonably comfortable that this was just a one-off, then the natural thing to do would be to say 'OK, fair enough, I'll just buy some more today,' " Pacific Investment Management Co. money manager Mike Amey said Wednesday in Bloomberg TV interview. "So I think it's a bit more nuanced than that. And it indicates to us that it's going to be a challenge to buy these bonds."
In the first round of buying on Aug. 8, investors offered to sell 3.63 times the 1.17 billion pounds of gilts due between three and seven years that the BOE was seeking.
Longer-term gilts have outperformed their shorter-dated peers this year as investors moved further down the yield curve for higher returns. The extra yield, or spread investors demand to hold 30-year gilts over two-year ones narrowed 11 basis points to 116 basis points, the lowest since 2008 on a closing basis.
Before it's here, it's on the Bloomberg Terminal.
LEARN MORE