Google Founders' Fortunes Hit New High on Alphabet Surge: Chart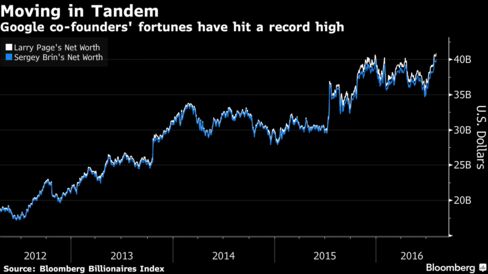 The combined net worth of Google co-founders Larry Page and Sergey Brin has reached $80.9 billion, boosted by Google parent Alphabet Inc.'s diversifying revenue streams. That's a $43 billion gain since April 2012, according to the Bloomberg Billionaires Index. Brin and Page are just two of the technology billionaires whose wealth has been growing: the fortunes of Paul Allen, Eric Schmidt and Mark Zuckerberg also hit record highs on Friday.
Before it's here, it's on the Bloomberg Terminal.
LEARN MORE