Draghi Jumps Brexit Hurdle to Find Oil Damping Price Outlook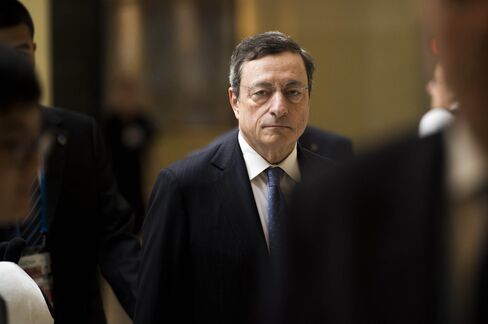 Cost of Brent crude fell 13% since U.K. voted to leave EU

ECB is drawing up new forecasts ahead of Sept. policy meeting
Whenever Mario Draghi clears a hurdle on his path to higher inflation, a new one appears.
Just as the 19-nation economy sends encouraging signals that challenges from Brexit to terrorism won't derail the modest recovery, a new decline in oil prices is casting a shadow over an expected pick-up in inflation. With growth not strong enough to generate price pressures, the European Central Bank president may have to revise his outlook yet again.
Inflation remains far below the ECB's 2 percent goal after more than two years of unprecedented stimulus and isn't seen reaching it before 2018. Staff will begin to draw up fresh forecasts in mid-August, and while officials are in no rush to adjust or expand their 1.7 trillion-euro ($1.9 trillion) quantitative-easing plan in September, economists predict Draghi will have to ease policy before the end of the year.
"Now that the euro-area economy seems to have shrugged off the Brexit vote, focus will again shift on inflation, against the background of those negative news from oil prices," said Johannes Gareis, an economist at Natixis in Frankfurt. "Yes, the ECB has managed to dispel deflation fears, but all the uncertainty means inflation will stay lower for longer -- and Draghi will have to take notice."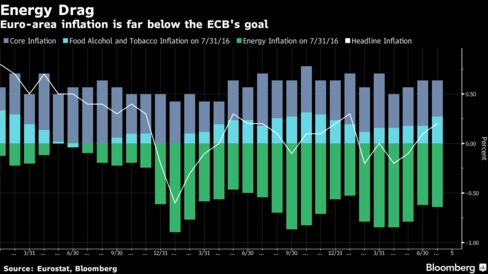 The U.K.'s vote to leave the European Union, the soundness of the region's banks and a string of terror attacks from Germany to France dominated the public debate in the past weeks. Draghi and his fellow policy makers have worked to reassure businesses, consumers and investors that they would react to these shocks as needed while buying time to better assess the effects.
Now, surveys suggest the impact of Brexit on the euro-area economy will be limited, with the recovery continuing at its slow but steady pace. Economic sentiment improved in July and a Purchasing Managers' Index points to a slight acceleration in activity.
The French economy is set to return to growth this quarter, the Bank of France said on Monday, predicting an increase in gross domestic product of 0.3 percent. Separate data showed German industrial production rose in June in a sign that Europe's largest economy gained momentum ahead of the U.K.'s Brexit vote.
But a more familiar concern is rising to the fore: The price of Brent crude has fallen more than 13 percent since the June 23 referendum.
The drop may not be as severe as previous ones, which have seen the cost of oil plunge some 40 percent over periods of similar length. However, it is set to mute an inflation rate that was projected to pick up as effects of previous commodity-price declines peter out. The ECB currently sees consumer-price growth accelerating to an average of 0.6 percent in the fourth quarter, from 0.2 percent last month.
Modestly Negative Effect
"Oil will have a modestly negative effect on inflation, revising the profile for inflation slightly downward," said Frederik Ducrozet, an economist at Banque Pictet & Cie SA in Geneva. "Inflation is still likely to increase but it will be a very gradual and modest increase."
The domestic economy probably won't be able to contribute much. According to a recent ECB research paper, the gap between actual and potential output might have been as big as 6 percent in the past two years, compared with typical estimates closer to 2 percent. That would mean the economy has a long way to go until it reaches capacity limits and generates higher prices.
Core inflation, which strips out volatile elements like energy and food, stood at 0.9 percent in July. Gizem Kara, an economist at BNP Paribas in London, predicts the rate won't rise but fall to record lows in the coming months.
"With growth being revised lower after Brexit, the output gap is going to remain large for longer," she said. "The source of inflation for the euro area will have to be external," and "this is the key problem for the euro area right now."
Sign up to receive the Brexit Bulletin, a daily briefing on the biggest news related to Britain's departure from the EU.
Before it's here, it's on the Bloomberg Terminal.
LEARN MORE