Musk Tears Into California Board Over Emission Credits Rules
CEO says state agency is being weak with ZEV standards

Regulator doesn't respond to request to Tesla complaint
Tesla Motors Inc. Chief Executive Officer Elon Musk hammered the California Air Resources Board over its clean-car credits program, saying the standards need to be raised. It was a rare public tirade against an agency that has done more than any other state in the U.S. to promote the adoption of electric vehicles.
California has the authority to set its own air-pollution rules and requires automakers to sell electric or other non-polluting vehicles in proportion to their market share in the state. Automakers can earn credits to reach those goals and companies that exceed the standard, like Tesla, can sell their extra credits to those that don't.
"The California Air Resources Board is being incredibly weak in its application of ZEV credits," Musk said on the company's earnings call Wednesday, referring to the state's zero-emission vehicle program. "The standards are pathetically low. They need to be increased. There's massive lobbying by the big car companies to prevent CARB from increasing the ZEV credit mandate, which they absolutely damn well should. It's a crying shame that they haven't. And as a result, you can barely sell the ZEV credits for pennies on the dollar."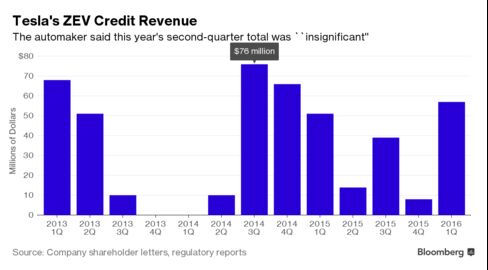 In the first quarter, Tesla reported $57 million of Zero Emission Vehicle, or ZEV, credit revenue. But last quarter, ZEV credits were so negligible that Tesla didn't break them out. California is expected to issue an evaluation of how the ZEV mandate is working out in the fourth quarter of 2016.
"CARB should damn well be ashamed of themselves," Musk added.
Representatives for the board didn't reply to e-mailed requests for comment.
Booming Program
In some ways, the CARB is a victim of its own success in providing credits that reward Tesla and other automakers for increasing the range of electric vehicles, and for selling more of them.
The agency has projected a 15.4 percent market share for ZEVs by 2025. But because so many credits are flooding the system, automakers may now be able to fulfill their requirements with as little as 6 percent of their fleets consisting of electric or fuel-cell vehicles, Dan Sperling, a professor of civil engineering and environmental science at the University of California at Davis, said last month. To bring those figures back in line, the state may increase its ZEV requirement, said Sperling, who also serves on the CARB.
California will issue an evaluation the ZEV mandate in the fourth quarter of 2016. To prevent an increase in the ZEV requirement from being seen as a "Tesla subsidy program,'' regulators could also limit the credits that any individual automaker can sell, Sperling said last month.
Diarmuid O'Connell, Tesla's vice president for business development, said last month he supports higher emission targets. But he rejects the idea of capping credit trades, which he calls "an extremely stupid idea: You'd be punishing people who are doing the most to put EVs on the road."
Before it's here, it's on the Bloomberg Terminal.
LEARN MORE