Square Raises 2016 Outlook as It Woos New, Bigger Businesses
Third-quarter adjusted revenue beat analysts' estimates

Company boosts full-year revenue outlook; shares rise
Square Inc., the electronics payment company, forecast third-quarter earnings that topped analyst's estimates, as the company processed more transactions and gained new and larger businesses.
Key Points
Second-quarter adjusted revenue, which excludes revenue from Starbucks Corp., rose 54 percent to $171 million from a year earlier, compared with analysts' average estimate of $159.4 million.
Square forecast adjusted revenue of $167 million to $171 million in the current quarter, exceeding analysts' average estimate of $166.3 million.
The company raised its full-year adjusted revenue projections to $655 million to $670 million, up 6 percent from the midpoint of its previously stated range and beating the average analyst estimate of $646 million.
Square sees full-year adjusted EBITDA of $18 million to $24 million, up from a previous range of as much as $14 million.
The shares surged 11 percent to $11.56 in extended trading. The were down 20 percent this year through the close Wednesday.


The Big Picture
Chief Executive Officer Jack Dorsey -- who also runs Twitter Inc. -- has been trying to convince investors that Square can grow amid stiffening competition from PayPal Holdings Inc. and First Data Corp. in the crowded transactions industry. The company started by selling smartphone plug-ins to let food truck vendors and small businesses accept credit-card payments. Now it's trying to gain larger businesses as customers by offering more services, including loans and tools for managing inventory and analyzing sales. Since the company went public last November, investors have been watching for Square to move towards profitability through growth in those higher-margin businesses.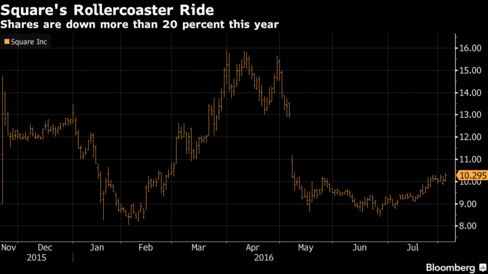 The Detail
The company reported a net loss of $27 million in the second quarter, or 8 cents a share.
The company extended almost 34,000 business loans, totaling $189 million, more than double from a year earlier.
Hardware sales more than tripled from a year earlier to $11 million.
Software and data product revenue gained 25 percent from the first quarter to $30 million.
Gross payment volume in the second quarter rose 42 percent to $12.5 billion.
Square said it's negotiating an amendment that may extend its agreement with Starbucks beyond the third quarter.
CFO Comments
Chief Financial Officer Sarah Friar said, "we've shown strong success and adoption by our seller ecosystem," and to expect more products in the next year that will help customers run their businesses.
"I think geographically we continue to cast a wider net. Today we're in the U.S., Canada, Japan and now Australia is really starting to gain momentum," Friar said on a conference call. "We're not really ready yet to talk about the U.K. yet but we do view it as a very interesting market."
Friar said Square's largest sellers are growing faster since they "like the ease of use, cohesion of software, hardware and payments into one ecosystem."
Street Views
"Investors are clamoring for profitability, or at least a move towards profitability," said Mark Palmer, an analyst at BTIG LLC, said in an interview before earnings were released. "The bigger picture in terms of Square's long term profitability is really the data and software line item that encompasses not just Square capital but a bunch of ancillary small business offerings that have higher margins than their core processing business."
"Given how young Square is, the number of merchants needs to grow," said Scott Devitt, analyst at Stifel Nicolaus & Co. before the results were released. "It's early in understanding whether Square can build a sustainable and differentiated platform, but they have good products and it's a market that's ripe for some change and disruption."
Watch Next: Square CFO Friar on Results, Growth, and Competition
Before it's here, it's on the Bloomberg Terminal.
LEARN MORE