North Korea Missile Falls Into Japan's Exclusive Economic Zone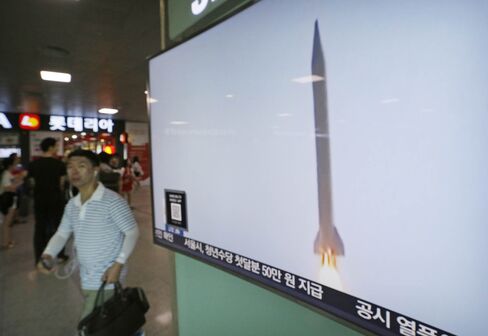 Mid-range ballistic missile fell 250 kilometers from Japan

Japanese Prime Minister Abe calls launch an 'intolerable act'
A North Korean ballistic missile fell for the first time into Japan's exclusive economic zone early Wednesday, drawing strong condemnation from the government in Tokyo.
The missile, believed to be an intermediate-range Rodong type, flew about 1,000 kilometers (620 miles) before falling into waters about 250 kilometers from Japan's coast line, according to South Korean and Japanese military officials. Kyodo news reported that the missile landed in waters to which Japan claims exclusive economic rights, and Prime Minister Shinzo Abe said later he believed that to be the case.
"This is a serious threat to our country's security and is an intolerable act," Abe told reporters in Tokyo. "We have made a strong protest to North Korea."
Chief Cabinet Secretary Yoshihide Suga said that Japan would coordinate with South Korea and the U.S. and seek an appropriate response from the United Nations Security Council.
A spate of recent launches has raised alarms in Japan. Wednesday's firing stirred memories of a North Korea missile that flew over Japanese territory in 1998, an act that led Tokyo to withdraw financial backing for a project in the isolated state. North Korea's leader Kim Jong Un continues to defy the UN's ban on the development of ballistic missiles and nuclear weapons.
The U.S. Strategic Command said in a statement it detected two missile firings, one of which may have exploded immediately after launch. The U.S. remains "vigilant in the face of North Korean provocations and are fully committed to working closely with our Republic of Korea and Japanese allies to maintain security," it said.
Before it's here, it's on the Bloomberg Terminal.
LEARN MORE