U.K. Fiscal Spur Urged by Ex-BOE Officials as Carney Hits Limits
Bean, Barker, Goodhart say Hammond better placed post-Brexit

Bank of England due to announce latest decision on Thursday
The Bank of England's limited scope to bolster an economy reeling from the Brexit vote puts the onus on new Chancellor of the Exchequer Philip Hammond and his fiscal plans.
That's the view outlined on Tuesday by three former BOE policy makers, including Charlie Bean, who was deputy governor for monetary policy until 2014. As Governor Mark Carney prepares to outline plans to tackle the fallout from the decision to quit the European Union, Bean, Kate Barker and Charles Goodhart questioned how much impact central-bank stimulus could have.
"The bank is in a much more constrained position in a world where monetary policy is likely to be less effective," Bean said at an event organized by Fathom Consulting in London. "Clearly, anything that reduces the degree of uncertainty is a good thing. But otherwise, structural and fiscal policies look like the thing we should be looking more toward" should there be a deep downturn, he said.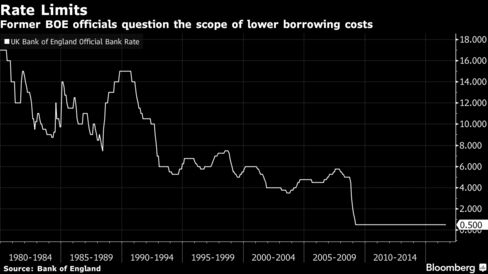 With initial reports showing the U.K. may be headed for recession, Hammond has said he's willing to "reset" fiscal policy. Still, he's ruled out concrete measures until the Autumn Statement later this year and signaled the BOE should take the lead in the short term.
Stability Risks
Forty-five of 47 economists surveyed by Bloomberg predict the BOE will lower its key rate on Thursday, with the majority seeing a quarter-point cut to 0.25 percent. Most forecasters also predict extra measures such as reviving asset purchases or steps to ease access to credit.
Barker said these measures risk stoking imbalances that have already emerged after more than seven years of record-low borrowing costs.
"There are risks to longer-term economic stability from a long period of easy monetary policy encouraging borrowing against inflated asset prices," she wrote in an article published in the Times newspaper on Tuesday. "I conclude that the implications of the Brexit vote would be better tackled by loosening fiscal policy."
Six years of austerity are being reviewed by Prime Minister Theresa May's government. Options for loosening fiscal policy include further cutting tax on corporate profits, reducing value-added tax on sales, subjecting less income to tax, allowing companies to make more spending tax-deductible and boosting investment in infrastructure.
On the fiscal front, "in the short run there's a very, very strong argument for more expansion," Goodhart said at the Fathom event. "We do need a short-run fiscal impulse; the problem is how we get there" without worsening the government's long-term finances.
Sign up to receive the Brexit Bulletin, a daily briefing on the biggest news related to Britain's departure from the EU.
Before it's here, it's on the Bloomberg Terminal.
LEARN MORE