Overseas Yield Hunters Bag Record Share of U.S. Corporate Debt
Foreigners fleeing negative rates own 40%, Wells Fargo says

Europeans are biggest holders, Asians the fastest-growing
Foreign buyers are poised to push their record 40 percent share of the U.S. corporate-bond market even higher as they seek to escape negative yields that have swept the globe.
While Europe is the biggest overseas owner of the debt with 80 percent of the foreign holdings, investors from Asia were the fastest-growing buyers, according to Nathaniel Rosenbaum at Wells Fargo & Co. Taiwanese life insurers were among the hungriest buyers, buying up the notes to boost exposure to the market after Taiwanese regulatory changes that allowed an increase in allocations to overseas bonds.
Bond buyers are pouring into U.S. corporate securities as European Central Bank policies aimed at stimulating growth push yields on more and more sovereign and company debt below zero. The declines were extended in June after the ECB expanded asset purchasing to include corporate bonds, a move that helped drive yields on a record 496 billion euros ($554 billion) of highly rated corporate bonds into negative territory, according to Bank of America Merrill Lynch data.
"U.S. corporate yields being higher than pretty much every other developed market means we will continue to see foreign demand for U.S. corporate credit," Rosenbaum, a credit strategist at Wells Fargo Securities, said by phone.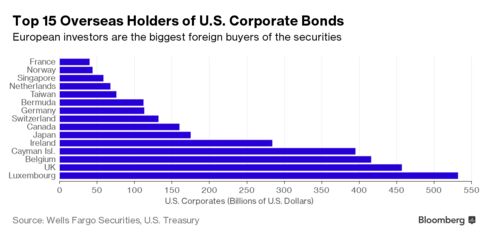 Foreign ownership of U.S. securities increased about 5 percent in the past year and now represents 40 percent of the market, according to a Wells Fargo report dated July 29.
The average yield investors demand to hold dollar-denominated debt of highly rated companies is 2.79 percent, compared with a record-low 0.7 percent for similarly rated euro bonds, according to Bank of America. The gap between the yields is 2.09 percentage points and reached a record 2.36 percentage points in March, the data show.
TwentyFour Asset Management is among overseas investors adding to its U.S. corporate exposures, according to Chris Bowie, a portfolio manager at the London-based company. He said he favors debt with a BBB rating, where the level of yield for dollar bonds is attractive compared with euros, he said.
"We like the risk-free rates on offer, firstly," Bowie said. "Secondly, corporate-bond spreads on top of that look attractive from a global perspective. As well as the fundamentals being good, the valuations are attractive, too."
'Occasional Mismatch'
The increased foreign buying doesn't necessarily mean that spreads on U.S. corporate debt will tighten, as might be expected when demand increases, according to the Wells Fargo report.
"Foreign demand can be difficult to predict, making for the occasional mismatch in supply and demand, which can mute any spread-tightening impact from the foreign buyer," Rosenbaum said.
The report identified 24 countries, including Russia and India, that could drive future demand for U.S. corporate debt, based on the proportion of corporate holdings compared with U.S. Treasuries. If those countries switch 10 percent of their Treasury holdings to corporate credit, the move would spur more than $380 billion of corporate-bond buying, the report showed.
Before it's here, it's on the Bloomberg Terminal.
LEARN MORE