Hardest Hit, Weakest Capital: European Stress Tests in Charts
The latest round of European banking stress tests showed that many lenders still need to lift their capital levels, and some need to do it quickly.
While there was no pass or fail mark, two of the 51 banks tested by the European Banking Authority fell below the regulatory minimum threshold, the regulator said late Friday. Eight had common equity Tier 1 ratio of less than 7.5 percent under the adverse scenario. Those firms could face extra scrutiny from regulators or investors, analysts at Barclays Plc wrote in a note to clients before the publication.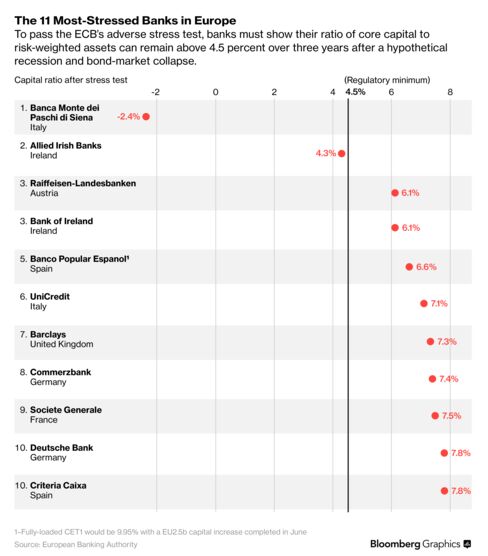 The following charts rank banks and countries by their capital ratios and how much they were reduced in the adverse scenario of the stress test. The data reflect full application of Basel III standards.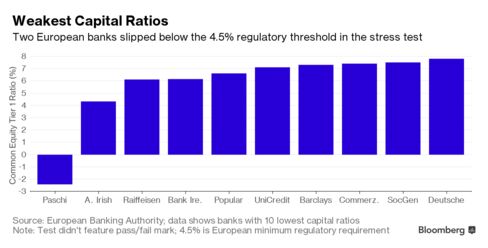 European banks are fighting to regain confidence as investors doubt their ability to lift profit and capital levels given the region's dim growth prospects. Banca Monte dei Paschi di Siena SpA, the worst performer in tests, said on Friday that it will raise funds from shareholders to help tackle a mountain of bad debt. Other lenders, including Deutsche Bank AG, have faced speculation that they will also need fresh equity to meet stricter regulation and pay fines for past misconduct.
Monte Paschi, the poster child for Italy's bad-loan crisis, saw its CET1 ratio wiped out in the test while Allied Irish Banks Plc also slipped under the 4.5 percent regulatory minimum. Six other banks had capital ratios below 7.5 percent.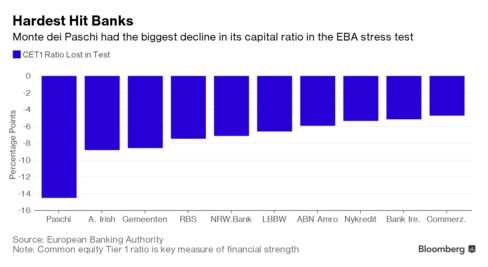 While Paschi and Allied Irish suffered the biggest reductions in their CET1 ratios, German banks with high capital levels also featured in the ranks of the hardest hit.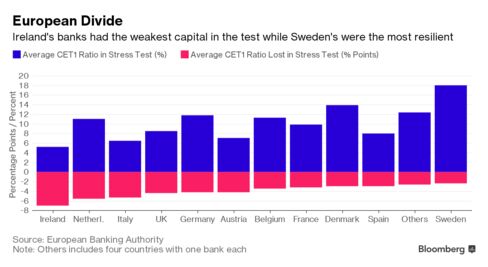 European countries with the weakest capitalized banks weren't the only ones to see a significant effect from the stress test. Dutch lenders had the sixth highest capital ratios on average, but the second-highest reduction in the stress test.
Before it's here, it's on the Bloomberg Terminal.
LEARN MORE