NextEra Agrees to Buy Oncor in $18.4 Billion Utility Deal
Takeover follows Hunt group's failed bid to buy Oncor

NextEra gains the largest transmission operator in Texas
NextEra Energy Inc. agreed to buy Energy Future Holdings Corp.'s Oncor Electric Delivery Co. LLC, adding stable returns from the largest electric transmission operator in Texas in an $18.4 billion deal.
The accord is part of a plan to let Energy Future exit bankruptcy after restructuring $50 billion in debt, according to a statement Friday from NextEra. A takeover would require approval from the court handling Energy Future's Chapter 11 case and from Texas regulators. For a period of time, Oncor's parent may consider other bids.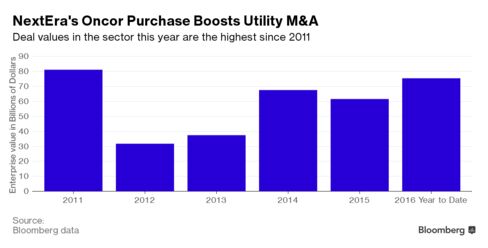 The sale extends a wave of utility consolidation as low power prices and flat demand lead companies to seek growth. For NextEra, it also marks a rebound from the collapse two weeks ago of a $2.63 billion deal to buy Hawaii's biggest power supplier, Hawaiian Electric Industries Inc. Adding Oncor gives NextEra 8.6 million customer accounts, 200,000 miles of power lines and $102 billion in assets, the company said.
"It sounds like they were able to offer the best deal to creditors," Bloomberg Intelligence analyst Stacy Nemeroff said by phone Friday. "Oncor is a prized asset: Electric transmission and distribution in a state where they already have a good relationship with regulators."
State regulators rejected the Hawaiian Electric takeover on July 15, and NextEra withdrew its bid shortly after. Oncor offers better opportunities for Juno Beach, Florida-based NextEra, Nemeroff said.
"NextEra proposed to take a leadership role in the integration of renewable energy into the power grid in Hawaii," Nemeroff said. "Texas is an even bigger opportunity to do that."
NextEra rose 0.5 percent to $128.08 at 10:55 a.m. in New York.
Termination Fee
As part of the Oncor transaction, NextEra Energy intends to fund $9.5 billion, primarily for repayment of Energy Future's debt. Of that amount, it is expected that certain creditors will be paid primarily in cash with the remainder in NextEra Energy common stock. NextEra Energy will use a combination of debt, convertible equity and proceeds from asset sales to fund the cash portion. Oncor also has about $6.7 billion in debt on its books that will likely be retained after the takeover, according to Bloomberg Intelligence analyst Jaimin Patel.
The implied enterprise value of the deal appears to represent 100 percent of Oncor, according to Patel, who said it wasn't immediately clear what will happen with the almost 20 percent stake held by a group led by Borealis Infrastructure Management, an investment arm of Canada's OMERS pension plan, and Singapore's GIC Special Investments. During the bidding for Oncor, the group expressed interest in acquiring the entire company, people familiar with the talks previously said.
"It's part of the wave of mergers and acquisitions that we've seen and the desirability of regulated assets in this low-cost financing environment," Paul Patterson, a New York-based analyst at Glenrock Associates LLC, said by phone Friday.
Energy Future can still accept other bids before bankruptcy court approval of its agreement with NextEra Energy. It it does, Energy Future must pay NextEra Energy a $275 million termination fee.
"It's a reality of bankruptcy," NextEra Chief Executive Officer Jim Robo said on a conference call with analysts. "It's important for our investors to understand that."
NextEra plans to file for approval with Texas regulators soon, Robo said.
Robo's comments preface intense lobbying expected during the approval process before Texas regulators. A group led by Hunt Consolidated Inc. had previously agreed to buy Oncor, but the Public Utility Commission of Texas imposed conditions on its purchase that investors wouldn't sign off on. That led to a second round of bids for Texas's biggest transmission operator.
Dallas-based Hunt "will remain involved as the process unfolds," Jeanne Phillips, a Hunt spokeswoman, said Friday in an e-mailed statement. The "advantages of maintaining ownership of Oncor by Texans for Texans are clear."
Warren Buffett's Berkshire Hathaway Inc. and Edison International were among the other companies that had expressed interest in Oncor, people familiar with the talks said earlier this month.
Julie White, a spokeswoman for Berkshire Hathaway's energy unit, declined to
comment.
Before it's here, it's on the Bloomberg Terminal.
LEARN MORE