The Hottest Piece of Team USA Merch Is This $25 Bucket Hat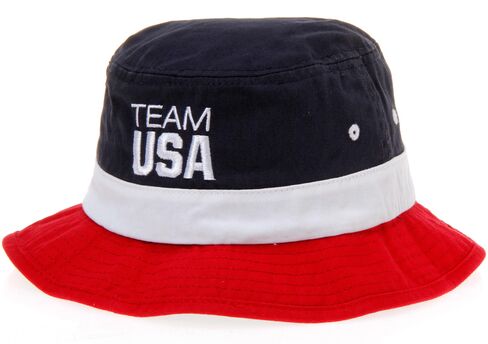 U.S. Olympics apparel sales up 50 percent compared to 2012

Remember the Sochi mittens? Games fans flock to the unusual
The top-selling piece of U.S. Olympic merchandise in the run-up to the Rio Games isn't a t-shirt or a jersey. It isn't made by Nike or Ralph Lauren and doesn't come in a number of colors or sizes. It's this $24.99 bucket hat.
The one-size-fits-all cap has been the best-selling piece of Team USA merchandise since mid-June, according to Fanatics Inc., the world's largest seller of officially licensed sports merchandise and e-commerce partner of the U.S. Olympic Committee.
Made by Outerstuff, the bucket hat continues a trend of unconventional apparel becoming popular in the lead-up to the Olympics. During the 2014 Winter Games in Sochi, Team USA mittens were all the rage.
"More traditional hats tend to do better among sports fans, but for big international events, such as the Olympics, Ryder Cup and World Cup, we know non-traditional items sell better," Fanatics President of Merchandising Jack Boyle said.
Based in New York, Outerstuff became an official licensee for the USOC in 2010, tasked with providing Team USA apparel to retailers like Wal-Mart, Target and Fanatics. The stuff they make can't be worn by the athletes who are actually in Rio -- that privilege is reserved for higher-paying USOC sponsors Ralph Lauren Corp. or Nike Inc.
As of now, sales of Team USA apparel are up 50 percent compared to the run-up to the 2012 London games, according to Fanatics. The other top-selling items are more traditional, including a Swatch watch, a USA basketball t-shirt made by Nike and a Nike women's tank top.
The Olympics begin next week.
Before it's here, it's on the Bloomberg Terminal.
LEARN MORE