Merkel Defends Handling of Refugee Crisis After Terror Attacks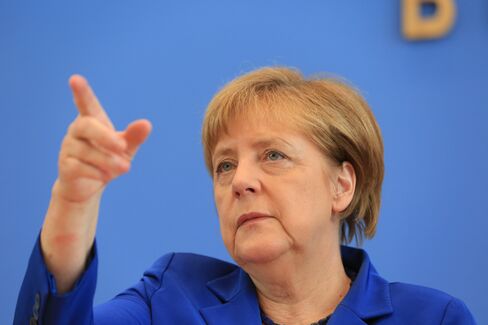 Chancellor says attacks by refugees 'mock' German hospitality

Merkel repeats 'We can do this' as chorus of critics grows
Chancellor Angela Merkel defended her handling of the refugee crisis and vowed swift action against those who commit terrorism following a spate of violent attacks that have shaken the German public and sparked renewed criticism of her migration policies.
Even as the German leader used tough language to say asylum seekers who committed attacks "mocked the country" sheltering them, she reprised her stock phrase from speeches last year at height of the refugee influx -- "we can do this" -- to fend off critics accusing her of failing to ensure security.
QuickTake Angela Merkel, Europe's Cautious Center
"I didn't say this as if it were something that we could do easily, otherwise I wouldn't have said it," Merkel told reporters in Berlin on Thursday. "But I remain convinced that we will do it." The chancellor said she broke off her vacation to hold her summer press conference earlier than planned in light of the horrific assaults.
Merkel opened the event with a statement that laid out her plans, including lowering barriers to deport refugees who don't receive asylum and creating an "early warning system" to detect radicalization among migrants. The 90-minute press conference was dominated by questions about the four assaults -- a shooting spree, ax attack, suicide bombing and machete strike -- that left 13 dead and sparked anxiety over terrorism.
Islamic State
The chancellor focused on two attacks committed by asylum seekers in Bavaria that officials say are tied to Islamic State, in which one assailant blew himself up at a music festival and another was gunned down by police after he attacked people on a train with an ax. The perpetrators died in both cases after injuring others.
"It makes a mockery of the aid workers who have offered help and it makes a mockery of other refugees who truly are seeking safety from violence and war," Merkel said.
For a QuickTake explainer on Europe's refugee crisis, click here
The bloodiest incident, a shooting spree in Munich on July 22 that killed 10 people including the shooter, was unrelated to international terror. That assailant, a teenager who was born and raised in Munich, harbored a fascination with mass shootings, including the murder of 77 people by right-wing terrorist Anders Behring Breivik in Norway in 2011, police have said.
Even as Germany has avoided large-scale terrorist attacks of the kind that have rocked France, Belgium, the U.S. and Turkey in recent months, Merkel drew a parallel to warn that Germany is not immune to similar onslaughts. She promised her government would focus on doing everything in its power to prevent such violence.
"Civilizational taboos are being broken, deeds are done in places we all could be in," Merkel said. "We will do everything to clear up these barbaric acts, to track down the backers and bring them to punishment. And we will then also have to decide where additional measures are required."
While a broad swathe of the political establishment and media have responded with unity in the wake of the attacks, some lawmakers in Merkel's Christian Democratic-led bloc as well as politicians from the anti-immigrant Alternative for Germany party, or AfD, have revived criticism that Merkel has invited a security threat with her accommodating refugee policy.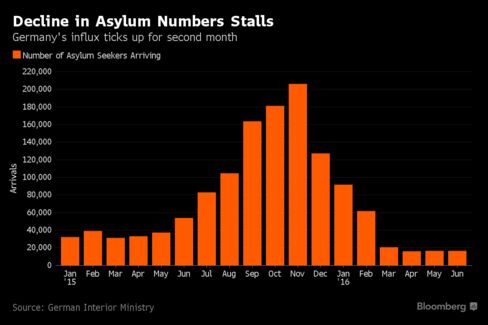 "Key message of the press conference: mantra-like 'we can do this,"' AfD co-leader Frauke Petry posted on her Twitter account after the event. "Finally admit to your mistakes!"
Merkel rejected the criticism, repeating that Germany had a moral and legal obligation to take in those fleeing war and oppression. Her chancellorship has been beleaguered over the past year after more than 1 million asylum seekers made their way to the country in 2015.
"We have to do whatever is humanly possible -- and I want to do that in my work -- to prevent any such attacks from taking place," Merkel said.
Before it's here, it's on the Bloomberg Terminal.
LEARN MORE