Forget Silver or Gold; Palladium Is Winner Post-Brexit: Chart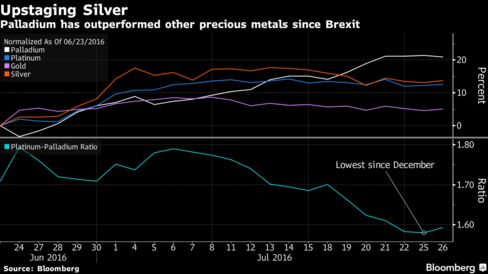 Investors seeking a haven in precious metals after the U.K. vote to leave the European Union would have profited most from palladium. That's partly because the metal used to clean car exhausts trailed gold and silver prior to the June 23 referendum, but also because fundamentals are constructive. The supply deficit in palladium is "substantially greater" than in its sister metal platinum, says Philip Klapwijk, managing director of Precious Metals Insights. Imports by China jumped 30 percent in the first half as auto output climbed.
Before it's here, it's on the Bloomberg Terminal.
LEARN MORE