Bank of England May Revive Dying Policy for Post-Brexit Package
Officials begin meetings Wednesday to discuss data that will underpin Aug. 4 decision
Bank of England officials may choose to revive a tool scheduled for termination as they seek to shore up business confidence in the aftermath of Britain's decision to quit the European Union.
As the Monetary Policy Committee gathers Wednesday to discuss data that will underpin next week's meeting and Inflation Report, there is intense speculation that a package of measures to aid the economy will be delivered. Last month, most of its nine members expected stimulus in August and officials also discussed "various easing options and combinations thereof."
While a rate cut and new asset purchases are seen as the main tools, other options may include lengthening the "policy horizon," or the time taken to return inflation to target, buying corporate bonds or an extension and widening of the Funding for Lending Scheme.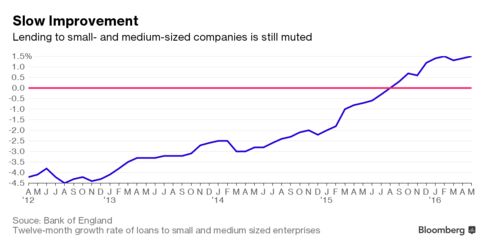 The FLS — which has incentives to boost bank lending to small- and medium-sized businessess — is currently being wound down and is scheduled to end in January 2018. BOE Governor Mark Carney has said credit conditions have normalized in many sectors and that warranted a gradual withdrawing of support. While SME funding has improved in recent years, it's still growing at just 1.5 percent.
"They'd want to shift back that end date so it looks like a meaningful policy tool," said Victoria Clarke, an economist at Investec Securities in London. "They could also adjust the incentives to bring more lenders on board or change the pricing slightly."
In an initial report after the June 23 referendum, the central bank's agents said credit conditions had "tightened slightly" and "demand for credit was easing." Virgin Money postponed plans to start lending to small businesses on Tuesday, citing economic uncertainty after Britain's decision to quit the EU.
QuickTake Why did Britain vote to quit the EU?
"They could extend the funding for lending scheme so that it expires later or increase the allowances the banks have to draw down from that scheme," said Allan Monks, an economist at JP Morgan in London. Still, since there's been no immediate pickup in the cost of borrowing since the vote "it's not obvious that would create an immediate stimulus or benefit to the banks," he said.
Before it's here, it's on the Bloomberg Terminal.
LEARN MORE