Ailes Departure Gives CNN a Chance to Close Ratings Gap With Fox
Time Warner unit is making inroads into rival's huge lead

Risk of Fox losing Hannity, other talent may affect viewership
Roger Ailes' exit from Fox News, which he built over two decades into the most-watched news network, could present an opening for rival CNN to close the ratings gap.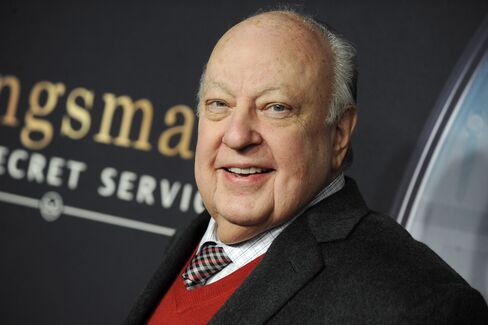 Even before Ailes resigned last week following sexual-harassment accusations leveled by a former anchor, Time Warner Inc.'s CNN had been eating into his network's commanding lead. Now, Fox News' dominance of cable news has been thrown into question as it seeks to replace one of the most powerful executives in television history.
"You have a charismatic, visionary leader, one of the leading players in television news, who is now departing the scene," said Andrew Heyward, the former president of CBS News. "That creates a potential opportunity for not only CNN, but MSNBC."
The shakeup at the top of Fox News could reshape the cable news landscape and allow CNN to capture a piece of what's become a major profit center for parent 21st Century Fox Inc. The company's cable networks, led by the news channel, accounted for as much as half of its revenue last year and more than two-thirds of its operating income.
Cable News Ratings,
2016 prime time
Nightly Viewers,
in millions
Fox
2.20
CNN
1.16
MSNBC
0.89
Source: Nielsen
Fox News still maintains a sizable lead over its rivals. So far this year, the network has averaged 2.2 million viewers in prime time, compared with 1.16 million for CNN, and 890,000 for MSNBC. And Ailes isn't out of the picture: He'll serve as an adviser to Rupert Murdoch, who becomes chairman and acting chief executive officer for Fox News Channel and Fox Business Network. Some analysts say Fox's loyal, politically conservative audience is unlikely to switch to another network as long as it doesn't make any major changes to its format.
"Where else would the viewers go?" Todd Juenger, an analyst at Bernstein Research, wrote in a research note to clients this week. "There aren't any obvious alternative networks providing a similar product as Fox News Channel."
Hannity, Van Susteren
Yet Fox News risks losing viewers in the wake of Ailes' departure. On-air talent like Greta Van Susteren and Sean Hannity reportedly have clauses in their contracts allowing them to leave if Ailes departs, which could affect the ratings, Brian Wieser, an analyst at Pivotal Research Group, wrote in a research note before Ailes resigned on Thursday.
"Many of the network's highest-profile on-air commentators evidently prioritize loyalty to its current leader rather than to the parent company," Wieser said.
Fox and CNN didn't respond to requests for comment.
This isn't the first time that an influential TV news executive has stepped down, raising questions over the future of a network. In 2004, Jeff Fager took over CBS's "60 Minutes" from Don Hewitt, who created the groundbreaking news magazine in the 1960s. Today, the show maintains a large audience. But the shakeup at Fox News isn't like other leadership transitions.
"Fox News is more heavily dependent on its CEO for its personality and operations than are most other networks," Wieser said.
Trimming Lead
While the 2016 election season has helped all cable news networks, CNN has started cutting into Fox's lead. In the first five months of this year, Fox News' prime-time audience grew 29 percent while CNN's expanded 116 percent, and CNN narrowed the gap to 723,000 viewers from 876,000. Fox News -- whose median viewer age was 67 last year compared with 61 for CNN -- holds only a slight lead among 18-to-49-year-old viewers (1.1 percent to 0.8 percent), a group that appeals most to advertisers, Wieser said.
During Donald Trump's convention speech last week, Fox drew 1.73 million viewers among another important demographic, 25-to-54 year-old viewers, while CNN got 1.38 million, narrowing the gap with Fox compared with four years ago.
For an article on convention ratings, click here.
Ailes, 76, also had a keen instinct for understanding exactly what Fox viewers wanted -- a quality that could be hard to find in his successor.
"Fox has lost an extraordinary asset in the news wars," Heyward said. "It's hard to believe there will be a new leader who is every bit as strong as Roger was."
Meanwhile, CNN has been investing more than Fox in digital and non-news programming, including a millennial-focused online video network called Great Big Story, and new documentaries and original series. That's put CNN in better position than Fox when the election ends and over time as more consumers get news online, Heyward said.
Yet the question of whether CNN can catch Fox News may depend more on whether Trump or Hillary Clinton becomes president than on who replaces Ailes. Fox and MSNBC, which appeals to liberal viewers, tend to flourish when the opposing party's candidate wins the White House, Heyward said.
"The change in leadership at the top of the country might have at least as much influence as the change in leadership at the top of Fox," he said.
Before it's here, it's on the Bloomberg Terminal.
LEARN MORE