Carry Trade Wins Again in Currencies Amid Post-Brexit Stability
Prospects for stimulus from ECB, BOJ foster opportunities

Strategy is a money maker in nine of the past 10 weeks
A bit of calm and prospects for more stimulus from some of the world's largest central banks are creating a window of opportunity for one of the most popular trading strategies in the $5.3 trillion-a-day foreign-exchange market.
Carry trades, which involve borrowing in low-interest currencies to buy higher-yielding ones, have made money in nine of the past 10 weeks, according to a Deutsche Bank AG index that tracks the Group-of-10 sphere. Since July 1, all 31 major currency carry trades funded with the yen have made money except the Turkish lira, according to data compiled by Bloomberg.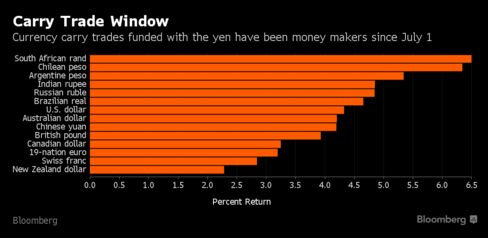 After a rout last year and a patchy start to 2016, the strategy has been buoyed by falling currency volatility and stronger appetite for riskier assets after the U.K. vote to leave the European Union led to only brief declines in most financial markets beyond the pound. That returns focus to the Bank of Japan and the European Central Bank as they consider increased stimulus to bolster economic growth and inflation.
"It's a winning trade right now," said Shaun Osborne, chief foreign-exchange strategist at Bank of Nova Scotia in Toronto. "Investors can look for this opportunity to continue for another two quarters," based on the outlook for expanded stimulus in Europe and Japan, with the Federal Reserve moving slowly towards higher U.S. interest rates.
Osborne targets borrowing in yen or sterling and buying the Australian and New Zealand dollars as profitable trades among developed nations. Short-term borrowing costs in Japan are below zero.
During the first half of the year, traders lost 2.6 percent on their G-10 carry-trade bets even amid a rally in commodity-based currencies offering higher interest rates. Since then, trades within the same basket have returned 0.6 percent.
"The global backdrop, with central banks to remain extremely accommodative at the least, makes for a very favorable environment for risk assets," said Omer Esiner, chief market analyst in Washington at Commonwealth Foreign Exchange. "In that, you tend to see carry trades re-emerge as a strategy and outperform."
Headline Risk
There are potential hiccups for carry traders, including rising expectations for Fed rate increases this year and global developments that may drive higher volatility, such as the latest events in Turkey.
"The Turkish coup story certainly is one such headline, though the market showed surprising resilience to that," Esiner said. "This window could go on for three to six months in this backdrop, but as always, we could be one or two headlines away from a complete reversal in risk appetite."
The New Zealand dollar and Australian dollar are the two highest-yielding currencies among their G-10 peers, with interest rates sitting at 2.25 percent and 1.75 percent, respectively, making them potential carry targets among developed nations. Both currencies tumbled this week on speculation the nations' central banks will cut interest rates in an effort to boost economic growth.
"The jury was out on whether the Aussies and Kiwis will ease their own interest rates, but headlines have brought back that discussion, which limits some of their appeal," Esiner said.
For more on the carry trade, click here.
Taking on additional risk outside of the G-10 is one way to potentially boost carry returns, Bank of Nova Scotia's Osborne said. Selling the yen for the South African rand, the Chilean peso and the Argentine peso have been the top-performing trades since July 1.
"With some emerging-market exposure, you can take advantage of the friendly environment," Osborne said.
Before it's here, it's on the Bloomberg Terminal.
LEARN MORE