Version of Beckham tax law is still a lure for high-paid staff

New steps to lure bankers would have to await next government
Spain's pitch for the potential spoils of post-Brexit London has a gaping hole: It has no government.
While the country's sunny skies, pristine infrastructure, skilled people and a tax break dubbed the ''Beckham Law" may be a lure for international banks and law firms to consider moving there, Spain is handicapped by the fact that after two elections in the past seven months, it is no closer to forming a new government. Spain's caretaker government can't present more specific steps to draw such firms, says the Economy Ministry, whose current pitch also comprises "quality of life."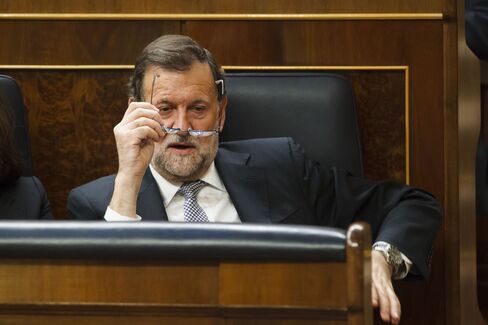 "For people to consider moving here, they need to know there's a corporate-friendly government and we don't have one just yet," said Ricardo Wehrhahn, a managing partner at Intral Strategy Execution, a banking and business consulting firm in Madrid.
Although far from the sole reason banks may not move to Spain, the absence of a government takes away from efforts it's making to compete with France, Germany and Ireland to attract lenders that may uproot activities from London in the wake of the U.K.'s decision to abandon the European Union. The Spanish embassy in London hosted a dinner for U.S. banks this month while Mariano Rajoy's acting government is exploring ways to persuade EU agencies including the European Banking Authority to move to the country.
"It's not hard to convince someone to come to Spain to live and work," said Ignacio Bao, Madrid-based chairman of the international executive search firm Signium. Even so, London bankers are unlikely to "just come for the sunshine," he said.
Election Limbo
Spain looks still a long way from being able to form a stable new government after elections in December and June failed to produce a clear winner. Rajoy of the People's Party added seats in last month's vote, but still needs permission to govern from the Socialists, who've refused to give it.
Rajoy said July 13 that calling new elections would be madness but said he might have to open a "period of reflection" if he can't secure enough votes in parliament to govern.
"Given that positions remain far apart, it is unlikely that a government will be formed quickly," Antonio Barroso, deputy director of research at Teneo Intelligence in London, said in a July 14 report.
That uncertainty might let other countries steal a march on Spain in luring European agencies and international firms in London seeking a presence on the continent to benefit from the single market.
On paper, Spain has much to recommend it to banks. The country is home to Banco Santander SA and Banco Bilbao Vizcaya Argentaria SA, two international lenders with combined assets of about 2 trillion euros ($2.2 trillion).
Madrid, Paris and Frankfurt, are big enough to cope with a potential influx of bankers, JPMorgan Cazenove said in a July 11 report. The vacancy rate for office space in Madrid is 16 percent compared with 12 percent for Frankfurt and 7 percent for Paris.
Madrid is also the cheapest of those three with prime rents at 27 euros per square meter per month compared with Frankfurt at 40 euros and Paris at 67 euros.
Bending It like Beckham
Spain also has friendly tax norms.
When English soccer player David Beckham came to play for Real Madrid in 2003, he was able to take advantage of a rule that meant he didn't have to pay tax on income abroad. The "Beckham law" in a modified form is still in force, and while it no longer applies to sportsmen, in theory it could still benefit bankers who would be treated as non-residents and pay tax of only 24 percent on annual income up to 600,000 euros for five years.
"The original Beckham law attracted plenty of footballers but actually not many bankers, or other business people," said Jose Maria Mollinedo, general secretary of the tax inspectors union Gestha. "Not everyone wants to change country just for tax reasons."
The tax rate for banks in Spain of about 30 percent is the same as Germany's and compares favorably with France's 38 percent. Spain's top personal income tax rate of 45 percent compares with 61 percent for France, 48 percent for Ireland and 47 percent for Germany, according to the JPMorgan report.
Acting Economy Minister Luis de Guindos welcomed U.S. banks to a dinner at the Spanish embassy in London after the Brexit vote to extol the virtues of Spain.
Not Bank-Friendly
"Everyone understands that fiscal incentives would be positive," Fernando Trillo, Spain's ambassador in London, said in a July 7 interview with Onda Cero radio, adding that they could include elements such as tax breaks for education.
Trillo was quick to point out that any package of incentives to lure banks from London would have to be agreed by Spain's new government, when it's finally formed.
Meanwhile, foreign investors list the lack of foreign language skills and excessive bureaucracy among the negatives of doing business in Spain, according to a survey by IESE business school. A shortage of high-end commercial property is also a hurdle international banks may face.
"If a bank moves here with 4,500 people, where are they going to put them all?" said Signium's Bao. "There isn't enough top-quality commercial real estate."
Politicians and citizens may also not welcome them, said Javier Diaz-Gimenez, an economics professor at IESE business school. Madrid Mayor Manuela Carmena came to power in 2015 representing Ahora Madrid, a group that drew inspiration from Spanish youth enraged by the lack of opportunities after years of recession. Ada Colau, the mayor of Barcelona, rose to prominence after leading protests against a surge in the eviction of people who couldn't service their mortgage.
"A lot of Spaniards are very anti-bank," said Diaz-Gimenez. "You shouldn't necessarily assume that this is going to be a bank-friendly country."
That hasn't stopped the Madrid regional government from paying for ads on London's double-decker buses that say: "Whatever happens, Madrid will be there for you..."
Before it's here, it's on the Bloomberg Terminal.
LEARN MORE