U.S. Stocks Slip Amid Earnings as Dollar Retreats With Crude
Draghi won't add to stimulus for now, sees economy risks

S&P 500, Dow fall from records as Southwest, Intel disappoint
Earnings continued to set the tone on global equity markets, as U.S. stocks retreated from record levels amid a mix of corporate results that raised some concern about the economy's strength. Crude fell amid a stockpile glut, while Treasuries rose with gold.
The S&P 500 Index fell from a record, with airlines leading declines after Southwest Airlines Co. tumbled on weakness in its fares. Intel Corp. dragged the Dow Jones Industrial Average lower for the first time in 10 days. Starbucks Corp. fell 3 percent in late trading after earnings missed estimates. Travel companies sent European shares down from a four-week high. The 10-year Treasury yield retreated, while crude fell below $45 a barrel in New York.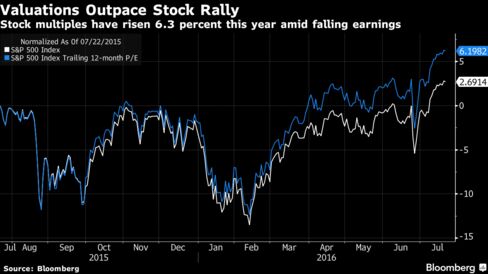 Equities turned lower after the European Central Bank was less forceful than investors had been speculating in signaling that additional stimulus is coming. Stocks had added more than $4.5 trillion in three weeks on bets central banks will stoke growth. Earnings had also been playing a part, with positive surprises helping lift the S&P 500 to a record. Some of that optimism faded Thursday as signs faded that profits will be able to sustain equities at elevated valuations.
"At these levels there's some trepidation with investors with valuations extended," Jim Davis, regional investment manager for The Private Client Group of U.S. Bank, said by phone. "The earnings season has been pretty friendly to the market so far, against the backdrop of economic data that has been positive which has helped the market take its mind off some of the other risks out there, mainly geopolitical ones."
Stocks
The S&P 500 fell 0.4 percent to 2,165.05 at 4 p.m. in New York. The Dow slipped 0.4 percent, halting the longest rally since 2013. Valuations on the S&P 500 climbed above 20 times earnings for the first time in seven years a week ago.
Intel slipped percent after reporting slower growth in its server-chip division. American Express lost 2 percent as its revenue was short of predictions. Southwest Airlines tumbled 8.8 percent after its earnings disappointed, weighing on shares of other carriers. Qualcomm Inc. gained after it gave a forecast that beat analysts' estimates, and EBay Inc. surged 11 percent after also raising its outlook.
The Stoxx Europe 600 ended little changed, with airlines leading declines. Deutsche Lufthansa AG sank 5.3 percent after cutting its 2016 profit forecast. EasyJet Plc slid 5.3 percent after posting a drop in quarterly revenue. Ryanair Holdings Plc and Air France-KLM Group fell more than 4 percent. Miners in the gauge advanced for the first time in three days.
The Borsa Istanbul 100 Index slumped 3.6 percent. Turkey imposed a three-month state of emergency as the government pursues those responsible for last week's failed military coup, detaining thousands of army officers, judges and prosecutors.
Currencies
The euro reached a three-week low, weakening against most of its major counterparts after the ECB decision. Draghi indicated the ECB will consider adding fresh stimulus later this year when it has a clearer picture of the economic impact from the U.K.'s secession vote.
The euro was little changed at $1.1021 after declining as low as $1.0980, the weakest level since June 27. It was 0.8 percent weaker at 116.76 yen.
The Bloomberg Dollar Spot Index fell 0.2 percent, after four days of gains. A Citigroup gauge that tracks the degree to which American economic data are exceeding projections is at an 18-month high and futures put the chance of a Federal Reserve interest-rate increase this year at 47 percent, up from 9 percent at the end of June.
Data Thursday showed sales of previously owned homes in the U.S. unexpectedly climbed in June to the highest level in more than nine years, giving a boost to residential real estate as it approached the end of its busy selling season.
Commodities
Oil eased lower after government data signaled that the U.S. will end the summer-driving season with ample supplies while investors await signs of additional central bank stimulus.
West Texas Intermediate for September delivery fell 1.4 percent to $45.10 a barrel and Brent slid 1.8 percent to $46.33 in London. WTI crude has dropped about 12 percent since touching $51.67 a barrel on June 9
Nickel extended gains to a 11-month high on concern the Philippines crackdown on mines is disrupting supplies from the world's top supplier of nickel ore. Mining stocks climbed for the first time in a week. Futures settled 1.7 percent higher.
Gold rebounded from a three-week low after the ECB said it may add stimulus as needed once it has a clearer picture of the Brexit vote's economic impact. Futures advanced 0.9 percent to settle at $1,331 an ounce. The metal has alternated between gains and losses for eight straight days.
Bonds
Charles Schwab Corp. joined a growing list of Wall Street firms predicting Treasury yields will stay low following a record-setting rally, even as U.S. debt is on pace for its second-straight weekly decline. The yield slipped two basis points Thursday to 1.56 percent after touching 1.31 percent two weeks ago.
Brazil is planning to sell global bonds for the first time since March as increased speculation that a new government will pull the nation from its deepest recession in a century drives down borrowing costs.
German 10-year bund yields touched the highest level in four weeks after the ECB left interest rates unchanged in its first policy announcement since the U.K.'s vote. Germany's 10-year bund yield was little changed at minus 0.008 percent.
Before it's here, it's on the Bloomberg Terminal.
LEARN MORE