Banks With Assets No One Wants Undercut India's Debt Recast Plan
Lenders seek buyers for stakes in at least 22 stressed firms

Profitability at Indian banks has hit a 17-year low: RBI data
From deodorant makers to steel mills, Indian banks are getting stuck owning assets they are finding hard to sell under a plan where they exchange soured loans for equity.
India's banks have converted or are seeking to convert loans to at least 22 companies, amounting to more than 1 trillion rupees ($14.9 billion), into majority stakes since June 2015, data compiled from exchange filings shows. These include Mumbai-based Provogue India Ltd., a retailer that sells 'Lethal' jeans and 'Surreal Lust' fragrances, and Monnet Ispat & Energy Ltd., a New Delhi-based steel and power producer. None of them have seen a sale or new management so far.
Lenders whose profitability is already at a 17-year low will have to start making provisions for loans to these companies if they are not able to find buyers within 18 months of converting the debt into equity. Any failures under the so-called Strategic Debt Restructuring would be an additional drag on banks already battling the highest stressed assets ratio since 2001.
"There were a number of cases pushed into SDR without having a firm buyer of the business in place," Nikhil Shah, managing director, Alvarez & Marsal India Ltd., a firm that specializes in turnarounds. "Banks do not have the bandwidth or capability to run these companies on a day-to-day basis. There is a shortage in India of professional agencies who can run these companies on an interim basis."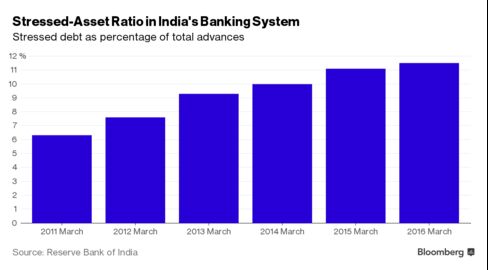 India isn't the only Asian nation struggling to clear bad debts. China's plan to rid banks of bad loans could backfire, allowing debt-laden "zombie" companies to stay afloat and creating conflicts of interest for bankers, International Monetary Fund staffers warned in April.
Reserve Bank of India Governor Raghuram Rajan, who has continually warned about hidden bad debt on Indian banks' books, has given lenders until March 31 next year to clean up stressed assets that amounted to about $120 billion in February.
Under the SDR rules unveiled in June 2015, the RBI allowed lenders to convert their advances into controlling equity stakes if the change was likely to improve the economic value of the loan asset and the prospects of recovery. Banks could even bring in the management of their choice to address inefficiencies at the firms, provided they sell off the entire holdings within 18 months of the conversion.
As banks struggled to find buyers, the RBI eased some restrictions in February 2016, saying that lenders can divest 26 percent of the stressed company's shares and pass on the management control to new owners within the stipulated 18 months, while exiting the remaining holdings gradually as operations turn around.
Running Companies
In most cases, lenders themselves have been reluctant to get on to the boards of such companies, owing to a lack of clarity on associated risks and liabilities, according to Dinkar Venkatasubramanian, partner, transaction advisory services, at Ernst & Young LLP.
"The willingness of lenders to run these companies with support from professional advisers and make them saleable within 18 months is crucial for SDR's success," said Venkatasubramanian. Banks are skeptical because of any "existing or imminent litigations" by other secured, unsecured or statutory creditors, he said.
Lenders to Castex Technologies Ltd. have proposed the auto-parts maker to take SDR route, it said in an exchange filing on Monday. Creditors to Provogue, which markets 'Surreal Lust' and 'Seductive Appeal' deodorant sprays for as little as 156 rupees a bottle on its website, decided to invoke the SDR in January. Gammon India Ltd., a Mumbai-based builder of roads and bridges, has seen part conversion of its debt to equity, according to an exchange filing.
Asset Quality
The dearth of buyers is exacerbating problems for Indian banks already grappling with a surge in the stressed asset ratio -- that measures the level of soured debt and restructured loans in the banking system -- to 11.5 percent of outstanding advances as of March 31.
Risks to the sector have "sharply increased" since September and banks' return on assets slipped to 0.4 percent at the end of March, the RBI said in a review published last month. Rajan's March 2017 deadline for the bad debt clean-up will come after he leaves office in early September, meaning the challenge will have to be taken over by his yet-to-be-named successor.
"India lacks a vibrant and deep secondary market for distressed assets that can facilitate further down-selling of banks' stakes in the companies that went into SDR," said Shishir Mehta, partner at Khaitan & Co., a law firm. "Banks are not business managers and if you put them in owners' shoes in companies across sectors, they won't be in a position to run them over a long period."
Before it's here, it's on the Bloomberg Terminal.
LEARN MORE