Japan Bank Stocks Have Best Week Since 1987 on Stimulus: Chart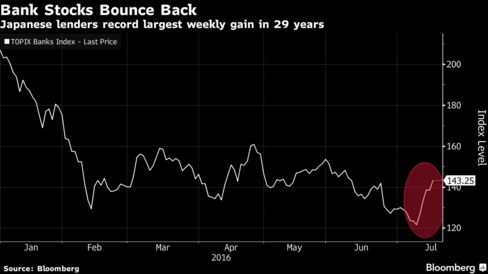 Japanese banks, battered by negative interest rates, fared much better ahead of Monday's trading closure for a national holiday. The Topix Banks Index jumped 18 percent last week, the most since April 1987, and is now no longer this year's worst-performing industry group. Investors bought lenders because the shares have fallen so much and may benefit from additional economic stimulus, the contents of which remain unclear, said Nana Otsuki, the chief analyst at Monex Group Inc.
Before it's here, it's on the Bloomberg Terminal.
LEARN MORE