Pro Sports Bets on Video Gamers for Growth
A star quarterback is great for jersey sales; a star gamer is, too.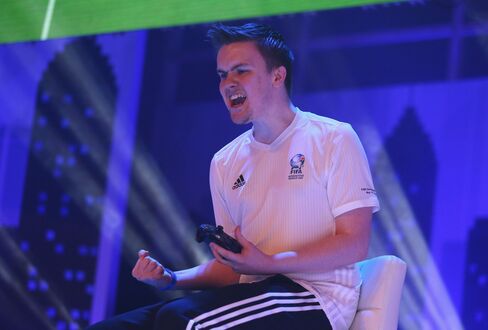 Major league sports teams are recruiting a new kind of player: one who can score with a joystick. In the past two months, Manchester City and West Ham United, two of the top English Premier League soccer teams, have signed professional video gamers to represent the clubs when playing FIFA, a hugely popular Electronic Arts soccer video game. In Germany, VfL Wolfsburg has outfitted a pair of top FIFA game players in the team's bright green jerseys.
American football could be next. At least three National Football League teams say they're considering signing top gamers of EA's Madden NFL video game to represent the franchises in tournaments. The gaming company recently revamped the format for its pro tournaments around Madden and is adding four new events. It's also expanding its television and digital broadcasts—and offering $1 million in prize money.
Both kinds of football teams have a chance to capitalize on the growing popularity of professional video gaming. E-sports is now a $500 million industry, according to Deloitte, with a mostly millennial audience—75 percent of players are age 18 to 34, and more than 80 percent are male. Not long ago, those folks would have been fans of real-life sports; now they may not even subscribe to cable. Instead, they're more likely to interact online through fantasy sports or video games.
"We're really keen to engage with younger audiences," says Tara Warren, West Ham's executive director for marketing and communications. "E-sports is a route to those younger audiences." The team on May 16 signed Sean "Dragonn" Allen, who came in second at the 2016 FIFA Interactive World Cup, to a contract. Warren won't reveal how much Allen will be paid, but she says such a deal is "far more cost-effective than traditional marketing platforms." He'll wear a jersey (No. 50) at events and will also develop video and online programming for the team to share on its social media channels. West Ham has been fielding calls from other teams in England and Europe asking about the arrangement, Warren says.
EA Sports has met with the NFL about sponsoring gamers, says Peter Moore, head of its competitive-gaming division. The NFL did not respond to a request for comment. "I don't know why teams wouldn't" pursue this, Moore says. "It feels like a very small expense for what seems to get a large amount of publicity." E-sports can quickly extend a brand and broaden a fan base. Gamers wear a team jersey, complete with their name and a number: Whether a fan attaches himself to an actual quarterback or a virtual one makes little difference to a franchise, as long as he ultimately buys a shirt.
Signing video players is an extension of the move over the past few years to professionalize e-sports. In Europe, where it's common for clubs to sponsor more than one sport—the Real Madrid umbrella, for example, covers soccer, basketball, and team handball squads—Germany's FC Schalke 04 and Spain's Valencia CF have invested in full teams of video gamers. In the U.S., a pair of NBA owners, Greg Miller of the Utah Jazz and Mark Mastrov of the Sacramento Kings, started an e-team that competes in League of Legends tournaments. Former Los Angeles Laker Rick Fox owns a video sports team. At Miami University of Ohio, video gaming is a varsity sport, and the NCAA's Pac-12 Conference has thrown its support behind organized e-sports.
There's no downside for pro gamers. Eric Wright, who lost in the final of the 2016 Madden Championship, says he earns enough at e-sports competitions—from tournament winnings, private lesson fees, Twitch video ad revenue, and sponsorships—to play full time. He says it "shouldn't be hard to get six figures" in 2016. As for his team allegiance, he's easy. Right now, he plays Madden as a San Francisco 49er.
"There are players in the NFL who are die-hard fans of one team, they get drafted to another team, and now that's their team," Wright says. "Would I want it to be with the Niners? Of course. But do I care if it's the Browns? That wouldn't make or break the deal."
The bottom line: The growth and popularity of e-sports, a $500 million industry, has caught the attention of pro soccer and football leagues.
Before it's here, it's on the Bloomberg Terminal.
LEARN MORE