The Body Cam Era Is Here. Who Can Access Cops' Videos?
North Carolina and New Hampshire have taken fundamentally different approaches to the question.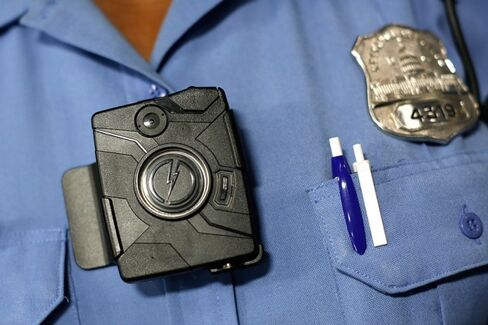 The debate over whether American police should wear body cameras is basically over. The technology is well on the way to ubiquity. But the fight over what happens to the videos those cameras record is just getting started. Many states, anticipating requests for access as the technology spreads, are grappling with the issue. At the same time that shootings in Louisiana, Minnesota and Texas transfixed the nation, North Carolina and New Hampshire quietly passed laws taking fundamentally different approaches to the question.
On Monday, North Carolina Governor Pat McCrory signed a law saying that videos captured by body or dashboard cameras were not public records and therefore wouldn't be released. The only exception is for people whose voice or image appeared in the footage. And even for them, the process is pretty restrictive. The law lets departments deny requests for a variety of reasons, including concerns about the release of sensitive information and the need to protect "active or inactive" investigations or potential future investigations. If the police reject a request, the person who wants the video can go to court to demand it. In the case they do they win, the law forbids them from recording or copying the videos.
In a bill-signing ceremony, McCrory acknowledged that body cameras could improve transparency, but struck a largely skeptical tone about their utility. "When used by itself, technology can mislead and misinform, which causes other issues and problems in our community, so what we need to do is walk that fine line," he said.
Police departments in North Carolina have been using body cameras for years. Winston-Salem and Greensboro are among the largest customers for Taser, the leading provider of police cameras in the country, with hundreds of cameras in use. (The current issue of Bloomberg Businessweek profiles the company.) The state's embrace of body cams hasn't exactly led to a new era of radical transparency. In Charlotte-Mecklenburg, there were four police shootings between September and May. A police-worn body camera captured only one of them.
Groups pushing for greater police transparency immediately criticized the law. Chad Marlow, advocacy and policy counsel at the American Civil Liberties Union, says restrictive rules governing body camera footage are a way for officials who were against their use in the first place to maintain control. "Whether body cameras are useful or not is based entirely on the policies that govern them," he said. "If you're not going to let the public see it, I'm not sure it's even a good idea to have body cameras, because then it's just another way to surveil the public." On Tuesday, McCrory's Democratic challenger for governor, Roy Cooper, criticized the law for being too restrictive.
On June 28, New Hampshire's governor, Maggie Hassan, signed a bill into law that takes a much different approach. Police departments are required to keep footage depicting contentious events, including those when police have used force, or when a complaint has been lodged against an officer, for at least three years. Those videos will be released in response to legitimate public-records requests. But the law also seeks to address privacy concerns. It dictates how officers can use the cameras, forbidding them from just turning them on at the beginning of a shift and recording everything that happens. It also says that videos that don't depict potential misconduct or police use of force won't be released in public records requests. Police departments must delete those videos 180 days after they're captured.
The two approaches roughly define the boundaries of the debate over how to handle footage from body cameras. Public officials have been struggling to find the correct approach for the last several years. Police actions often involve people in delicate situations, and some of the footage from body cameras includes private information, nudity, or disturbing violence only some of which directly involves the police. Releasing some videos publicly may serve more to embarrass or harm civilians than to hold officers accountable for their actions.
Washington state discovered how tricky body cam footage could be in 2014 when an activist in the Seattle area began making blanket requests for body camera footage under the state's liberal public-records law, then posting them on YouTube. Police departments in the state are moving forward with body cameras, with adjustments to the policy. Earlier this year, state lawmakers passed a law restricting such broad requests by requiring people to submit specific information about the video they're seeking.
The New York Police Department, which is planning to expand its body camera program later this year, recently set up an online survey, asking the public what types of encounters should be recorded, whether police should have to tell people they're recording, and whether officers should be able to watch footage from their body cameras before making a statement about an incident.
While the laws governing body camera footage are mostly being hammered out at the state level, the federal government is also playing a role. The Obama administration has been enthusiastic about the technology. It has called for $75 million in grants to local police departments to deploy cameras. Marlow of the ACLU thinks the federal government should tie such funding to some standards for etransparency.
At an event last week at New York University, Roy Austin, deputy assistant to the president for urban affairs, was asked what aspect of technology presented the biggest potential for positive change in government. "The thing that I am most excited about is, without question, body cameras," he said. He laid out a scenario where artificial intelligence programs would scan videos to identify which police interactions were positive and which were troubling.
At the same time, Austin acknowledged that having that capability would raise all sorts of novel questions, such as whether and how to punish people for past events that didn't result in any action at the time. "The part that scares me is we now have the ability to, months after an incident, have people go back and look at that, and arrest people for conduct from months and months before," he said. "The question becomes, is that the people's video? Is that law enforcement's video?"
Before it's here, it's on the Bloomberg Terminal.
LEARN MORE