IMF Cuts South Africa 2016 Growth Forecast to 0.1% From 0.6%
Economy not keeping up with population growth, IMF says

Growth forecast not good news for ratings, BNP's Schultz says
The International Monetary Fund cut its forecast for economic growth in South Africa this year to 0.1 percent from 0.6 percent.
Gross domestic product in Africa's most-industrialized economy will probably expand 1.1 percent in 2017, the Washington-based lender's mission chief for South Africa, Laura Papi, and senior economist, Yi Wu, wrote in an opinion piece published in Johannesburg-based Business Day newspaper on Thursday. That will be the slowest rate of growth since a 2009 recession.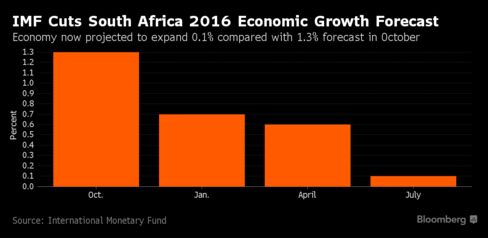 The low growth forecasts mean "the economy is not keeping up with the rate of population growth, which is 1.7 percent," Papi and Yi wrote. "If these projections come to pass, South Africa's per capita income next year will be what it was in 2010."
South Africa needs to implement structural reforms to boost the economy, such as more flexible labor laws, to avoid its credit rating being cut to junk, S&P Global Ratings said on June 3 when it affirmed the nation at the lowest investment-grade level. The economy contracted 1.2 percent in the three months through March as mining and farming output slumped due to low mineral prices and the worst drought in more than a century.
Governance Concerns
Changes in the finance minister portfolio in December, when President Jacob Zuma replaced Nhlanhla Nene with a little-known lawmaker and then reappointed Pravin Gordhan four days later to the position he held from 2009 until 2014, and other political developments, have heightened governance concerns and policy uncertainty, the IMF said.
The Reserve Bank has increased its benchmark repurchase rate by 125 basis points to 7 percent since last July as it sought to steer inflation back into its 3 percent to 6 percent target band. While the central bank said it's sensitive to the effect of higher rates on growth, it will remain focused on its mandate of price stability, Deputy Governor Daniel Mminele said on Wednesday. The bank said in May the economy will expand by 0.6 percent this year and the National Treasury forecast growth of 0.9 percent in February.
The cut in the growth forecast "doesn't really spell very good news for the ratings outlook, because as we know ratings agencies have consistently flagged the lack of growth in the economy as one of the key ratings risks for South Africa," Jeffrey Schultz, a senior economist at BNP Paribas Securities, said by phone from Johannesburg on Thursday. "The Reserve Bank probably must be thinking to itself that it must be nearing the end of its hiking cycle."
The IMF is due to release its full Article 4 Staff report on South Africa at 3:45 p.m. on Thursday.
Before it's here, it's on the Bloomberg Terminal.
LEARN MORE